What do you need to finance a car?
When financing a car, lenders require documentation that proves your identity, income, residency, and insurance coverage. You can also expect to provide your Social Security number and vehicle information. Know in advance what to bring when applying for an auto loan so you can gather the necessary paperwork and ensure the loan process goes smoothly.
3 min to read
What do I need for a car loan?
The documents needed to buy a car on finance are fairly standard, regardless of where you live or whether you're buying a new or used car. Be prepared to provide the following to your car dealer or lender. The proof documents you'll need for a car loan are:
Identity: It's the law — a lender must verify your identity so they know who's getting the loan. Since you're buying a car, you probably have a driver's license. A passport or other government-issued photo ID will do the job, too. Learn about if you need a license to buy a car.
Income: Current pay stubs often provide proof of income for car loans. But do you need pay stubs for an auto loan? No — other options may be acceptable, including current bank statements, W-2s, and 1099s. If you're self-employed, your most recent two years of income tax returns can also help prove to a lender that you have the income to keep up with a car loan payment.
Insurance: When you're financing a car, the lender wants to know that insurance will protect their investment, since they also own the car until you fully pay off the loan. A quick call to your insurance company can usually get you an insurance binder to prove you have insured the vehicle before driving it off the lot. Learn more about showing proof of car insurance.
Residence: Acceptable proof of residence for car loans may include a driver's license, utility or insurance bills, mortgage or lease statements, and bank or credit card statements.
Other documents you need to finance a car
Social Security number: This allows banks and dealerships to access your credit score and history, often a requirement before they'll offer you a loan.
Purchased vehicle information: If you're financing with the dealership, they'll handle this for you. If not, send the information directly to your lender. A bill of sale or car purchase agreement, included in the documents you'll sign at the dealer, usually contains everything the lender needs: the car's make and model, year, VIN, and purchase price.
Used car documentation: For used cars, your lender will need the original title document (to be filed with the BMV or DMV once the sale is final), details of any loans or liens outstanding on the car, and the car's current mileage.
Depending on your situation, it may also help to have trade-in paperwork, discount eligibility and payment ready. If you're trading in a used car as part of the transaction, have that car's current registration handy. If you own the vehicle free and clear, you'll need the title. If you have a loan on the vehicle, bring the most up-to-date loan documentation with you, including the payoff amount.
If the dealer offers incentives that apply to you — for example, a military discount or a student/recent graduate discount — ask them what you'll need to provide to establish your eligibility.
If you have outside financing, your lender may have given you a check to give to the dealership. If you're getting financing through the dealership, you may only provide a down payment. Dealers generally prefer cashier's checks or certified checks. If they accept personal checks, the dealership may need to verify that you have the funds available in your account.
Found the right car at the right price? Get the right insurance
Current Progressive customers
You can log in or call 1-866-749-7436 to get your new car on your current policy.
New Progressive customers
Quote auto insurance online or call 1-866-749-7436 to insure your new car.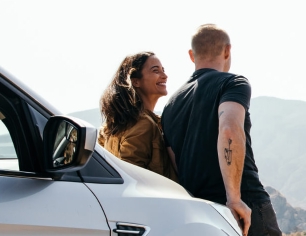 Quote car insurance online or give us a call