What are the differences between a car warranty vs. car insurance?
When comparing car warranties vs. insurance, both can pay for repairs to your vehicle, but they apply in different scenarios. The biggest difference between a warranty and insurance is when they can be used. With the right coverage, car insurance can pay to repair or replace your car if it gets damaged, stolen, or destroyed through a covered event. On the other hand, car warranty coverage only applies to car parts that break due to wear and tear, manufacturer defects, and other causes besides accidents and unexpected events.
5 min to read
What is a car warranty?
A car warranty is a contract that protects against defects to your vehicle's parts and mechanical components. If a covered part breaks, the warranty provider pays to fix it. Typically, you can buy warranties through a dealership or third party, but any new car typically comes with a manufacturer's warranty that you don't have to buy separately.
One way to think about when to use a warranty vs. insurance is to identify whether the problem results from a clearly identifiable event like a car accident. When the cause isn't a specific event, a warranty claim may be what you need.
Car warranty vs. car insurance
Understanding the differences between a car warranty and car insurance is important so you can adequately protect your vehicle. The following chart breaks down the key differences between the two:
What do car warranties cover?
Car warranties can cover some or most of the components inside your vehicle, including the engine, electronics and air conditioning systems, and the transmission. They fill in coverage for types of damage not usually covered by insurance, such as:
Normal wear and tear
Extreme heat or cold
Mechanical defects (including vehicle recalls)
Poor maintenance
Don't have a car warranty? Find out if your car insurance will cover engine repairs or other mechanical issues.
Does a car warranty cover accidental damage?
A car warranty won't cover damage to your vehicle caused by an accident. That's where car insurance can help. If you carry comprehensive and auto collision coverage, your vehicle is covered for accidental damage, as well as other unexpected events, such as a tree branch falling on your car.
What are the different types of car warranties?
Typically, you can choose between a new car warranty and an extended warranty. Both options provide you with coverage but vary in how long the protection lasts.
New car warranty
A new car warranty, also known as a manufacturer's warranty, helps pay for replacement parts or specific repairs during the stated warranty period. A new car warranty's length may vary by manufacturer, but most last at least three years or the first 36,000 miles, whichever comes first.
Extended warranty
Extended warranties can provide protection for used cars that are outside the manufacturer's warranty or provide extended coverage for new vehicles. The coverage length for extended warranties varies widely between providers but is also measured in years or mileage.
Comparing an extended warranty vs. car insurance isn't an "either/or" question because they cover different things. Find out if you need an extended warranty for your car.
Pro tip:
Comparing different extended warranty plans is recommended since most companies and manufacturers offer different protection options and rates.
Roadside assistance vs. car warranty
Both car warranty providers and insurance companies may offer roadside assistance for tows, lockouts, and more. Not all car warranties include coverage for this service, though most insurers offer roadside assistance as an optional car insurance coverage you can add to your policy. If you're looking for roadside assistance coverage, compare the cost of a warranty with it against the cost of adding it to your auto policy, as well as what specific services are covered.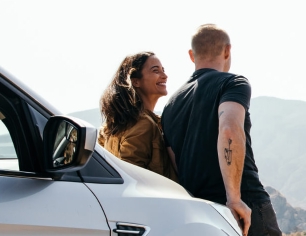 Quote car insurance online or give us a call