Does car insurance cover lost or stolen keys?
Typically, no. Roadside assistance coverage can make things easier if your keys are lost or stolen, but the cost of replacing them usually falls to you. Comprehensive coverage will cover a stolen car, including its keys, but it won't cover lost keys. Other kinds of insurance — like homeowners — may also cover car keys in case of theft. But you should weigh the costs of filing a claim for your stolen keys to make sure it's worth it.
5 min to read
Does another type of insurance cover lost or stolen keys?
In the case of stolen car keys, property insurance may be able to provide coverage. Property insurance policies (like homeowners insurance or renters insurance) that include personal property coverage may protect your belongings against theft even if they're not in your home when the theft occurs. Suppose your purse or backpack gets stolen and your car keys are inside. You may be able to make a claim for the keys through your property insurance. However, a deductible could apply, and details vary from one insurer to another, so check your policy before filing a claim.
If your vehicle is stolen while your keys are inside, comprehensive car insurance coverage may pay to replace your car key (if the car is recovered but the key isn't).
Pro tip:
Before you file a claim for stolen car keys, compare your comprehensive coverage to your property insurance coverage. One may have a significantly higher car insurance deductible or may not cover the incident at all.
Should I file an insurance claim for stolen car keys?
Filing a claim for key replacement is often not worth the time involved and deductible payment, but it may depend on your deductible amount and the cost to replace your key. Old-style mechanical keys don't cost much to replace if you have a spare to copy. In that case, even if you're able to make a claim, it may be easier and no more expensive to pay out of pocket. Key fobs cost more than mechanical keys but are still inexpensive enough that the key fob replacement cost may not exceed your car insurance deductible.
There might be an exception if you have a high-tech smart key. Laser-cut, programmable smart keys can cost several hundred dollars or more to replace and program. It's possible that your key replacement could cost more than a low car insurance deductible. Even in this case, though, you should weigh the monetary savings against the time you'll spend getting the claim approved and processed, as well as the possible effects on your car insurance premium for making a claim.
What to do if you lock your keys in your car
If you have roadside assistance coverage, your insurer can send a locksmith to get you into your car. Depending on the type of key you have, the locksmith may be able to make a copy for you. In that case, your insurance would pay to dispatch the locksmith. However, you'll need to pay for the cost of the new key.
If the locksmith isn't able to create a duplicate key, roadside assistance coverage can pay to tow your car to a dealer or other service shop qualified to make a new key — but you'll still need to pay for the replacement key. If you don't have a spare key for making a copy, a car locksmith or the dealer can likely still create a copy by referencing the car's key code or vehicle identification number (VIN). However, this may be more expensive than replacing the key from a copy. Learn more about what to do if you lock your keys in the car.
How to replace stolen car keys
Smart keys
If you have an electronic key, it's probably not possible (or reliable) to use aftermarket parts or services to replace it. The re-keying process typically requires the car to be present, so you may have to have your car towed to the dealer for them to provide you with a new electronic key.
Mechanical keys
If your car is older and still uses a simple mechanical key, you can have a new key cut at most hardware stores for just a few dollars (assuming you have a spare to bring with you). However, this type of key is less common today, as most manufacturers have moved to electronic key fobs with varying levels of technology.
Mechanical keys and remote
Many older vehicles have a remote to lock and unlock the car from a distance but use a mechanical key to start the car. You may be able to get an aftermarket blank (including the remote control fob) and get it programmed by a locksmith or car repair shop. Some models allow you to program the new key yourself if you have two originals on hand, but you'll still need to have the mechanical portion of the key cut. If you get locked out of your car, many automotive locksmiths (like those dispatched by roadside assistance) can copy your key onsite, saving you the cost of a tow.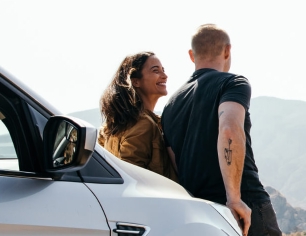 Quote car insurance online or give us a call