I locked my keys in my car — who do I call?
Don't panic, and don't resort to breaking in. You have many options for getting into your car when your keys are locked inside, including a locksmith, tow service, your dealer, a family member with a spare key, or even roadside assistance through your insurer. It's inconvenient, but it's not the end of the world. With a little patience and poise, you can get into your locked car without smashing a window.
2 min to read
Will the police unlock your car for free?
Being locked out of your car can be a valid reason to call the police. However, they may not be able or allowed to unlock your car unless there's an emergency, such as a small child or pet locked inside. Even so, without specific tools and skills, they'd likely need to break in just as you would. For non-emergency lockouts, the police will usually call a car locksmith or tow service, but you'll have to pay for it.
How much does it cost to unlock a car?
If your keys are locked in your car, the cost for a locksmith to unlock it typically ranges from about $50 to $250, according to eLocal.com. Towing services or car dealerships can be expensive too. For peace of mind, many people purchase roadside assistance through an auto club, credit card company, or as additional car insurance coverage on your policy.
Tips for when you've locked your keys in your car
Many people lock themselves out of their cars each year. It's normal to feel embarrassed, but don't let the inconvenience feel monumental. You can get through it calmly by keeping the following in mind:
Remember if and where you may have a spare key.

If your spare key is at home, ask a friend or family member to bring it to you. Or, if you parked your car with no people or pets inside, consider using a rideshare service.

Call your insurance company to see if you have roadside assistance.

If you don't have a spare key or roadside assistance, the next option is to call a tow service or locksmith.
Does roadside assistance cover locked keys in the car?
Roadside assistance can be a huge relief when your keys are locked in your car. This coverage isn't usually included in a standard auto insurance policy but is available from many insurers as an optional coverage. Vehicle lockout is almost always a covered event for roadside assistance, but the exact terms and coverage limits may vary.
Roadside insurance might also cover towing costs within a specific radius if a locksmith has difficulty unlocking your car due to new technology, a faulty lock, or other challenges. Know your policy and keep the information on hand. Learn more about how car insurance covers towing.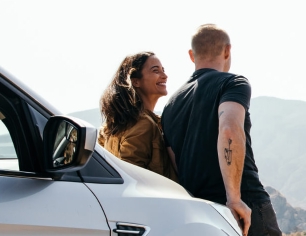 Quote car insurance online or give us a call