Does homeowners insurance cover backyard animals?
Homeowners insurance typically does not cover damage to your dwelling or other structures caused by insects, vermin, rodents, or other wild animals, but your policy may provide coverage in some instances, such as if there is hidden insect/vermin damage if the presence of damage is unknown to the insured prior to the collapse. Your policy typically won't cover damage caused by animals you own or keep. Home insurance also typically won't cover vet bills or animal-related care. If you're responsible for someone else's damages or injuries caused by a backyard animal, you may be covered under your homeowners insurance policy's personal liability coverage, up to specified limits.
4 min to read
Will homeowners insurance cover damage caused by my backyard livestock?
Homeowners insurance typically won't cover damage to your property caused by livestock. If you're operating a small hobby farm with the intent of selling some products — such as selling your eggs at a local farmer's market — a farmers personal liability endorsement may be added to your policy with some homeowners insurance companies. If offered by your insurance company, provide your insurance agent with the details of all farming activities on your property. Offering these details can help ensure that you qualify for the endorsement your insurance company might add to your policy, so you can receive the coverage that you need.
If your animals aren't being used for business purposes, like selling eggs or goat milk, your personal liability coverage may extend to your backyard livestock in some cases. For example, if your goat escapes your yard and causes damage to your neighbor's fence, your liability coverage may help cover the damage to their property if a claim is filed. However, your policy may exclude farm or saddle animals whether you use them for business or not. Other times the coverage may be available only if you purchase a separate endorsement. To get a better understanding of what your policy covers and any available endorsements, speak to your insurance agent.
Does homeowners insurance cover chicken coops?
Depending on the intended purpose, other structures coverage on your homeowners policy may cover your chicken coop since it's a detached structure on your property. If your coop is harmed or destroyed by a covered loss, like fire, other structures coverage may pay for the damage, up to your coverage limits. Remember to notify your insurance agent if you build a chicken coop or any other new structure on your property, so the structure may be properly insured if damaged.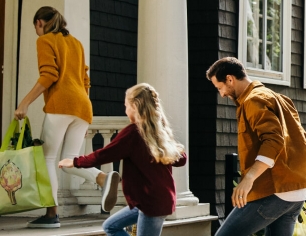 Quote homeowners insurance online or call for advice