Can I drive in Canada with U.S. insurance?
If you are traveling to Canada by car, whether in your vehicle or a rental car, your U.S. insurance will usually protect you with the same coverages and limits that you have at home. Car insurance in Canada for visitors from the U.S. is governed by reciprocal laws between the two countries. Most major insurance companies will cover you if you need to make a claim during your trip north of the border.
2 min to read
Do I need a passport to drive to Canada?
If you're crossing the Canadian border by car, Canadian law requires that you show proof of citizenship and identity. For U.S. citizens, a valid passport book, a passport card, or a NEXUS card are sufficient to satisfy the requirement. Children under the age of 16 should have proof of identity and citizenship, like an original birth certificate or citizenship card.
The Canadian border patrol may also ask for proof of insurance if you're driving in Canada. Your auto insurance card should be sufficient, but you can also request a non-resident inter-province insurance card from your insurance company. It's also a good idea to have your auto insurance policy with you in case you get pulled over or get into an accident during your visit.
Make sure you have a valid vehicle registration before driving in Canada. Sometimes border agents will ask for your registration to make sure you aren't driving a stolen vehicle.
Renting a car in Canada
If you're traveling to Canada and plan on renting a car when you get there, contact your insurance company about whether they'll extend coverage to your rental. If your insurer covers rental cars in the U.S., they may also extend coverage to cars you rent while in Canada. Otherwise, you may need to buy rental car insurance from the rental agency.
What about driving a car in other countries?
Keep in mind that the reciprocal laws are only an agreement between Canada and the U.S. If you're traveling to other countries, your insurance may not automatically cover you. Check with your insurance company if you're traveling internationally and plan on driving to learn how international car insurance works.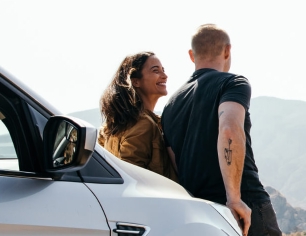 Quote car insurance online or give us a call