What are the additional costs when buying a car?
The final price you pay when buying a car isn't only the cost of the vehicle itself. You'll also pay documentation fees and sales tax. However, you could find additional fees tacked on to the final cost that aren't necessary. Depending on your situation, you may be able to negotiate fees that can reduce the overall cost of the purchase.
4 min to read
What car dealership fees and taxes do I pay when buying a new or used car?
One of the most frustrating parts of the car buying process occurs when you look at your contract, only to find several fees you never knew you'd need to pay. Keep in mind there are some taxes and fees on new cars that you'll have a hard time avoiding. These include the vehicle registration fee, sales tax, and documentation fee.
Vehicle registration fee
The vehicle registration fee includes the cost of registering the vehicle, issuing a title, and the cost of the license plates you attach to your vehicle. The registration fee is affected by the car's current value, fuel efficiency, age, and sometimes even its weight. Different states calculate the fee based on a variety of factors, while others charge a flat rate. Registration can range in price from less than $50 to more than $200, depending on where you live.
Sales tax
The sales tax, which will vary by state, is the most significant cost you'll pay when buying a new or used car. Because sales tax for a car is just like sales tax for any other product, and considering that you're paying significantly more for a vehicle than, say, your groceries, the final tax amount can be staggering – for example, an 8% sales tax on a $20,000 vehicle is $1,600. Some cities and counties add another tax on top of the state tax so you may pay end up paying several thousand dollars more.
Documentation fee
The documentation fee covers the cost of preparing and filing the sales contract and other relevant paperwork. Some states place limits on how much these fees can cost. Other states have no limits on how high these fees can go. The difference between documentation fees in states that do and do not limit them can be significant. While some states limit fees to just less than $100, the median documentation fee in some states without such limits can exceed $600.
Can I negotiate some of the additional costs when buying a car?
The three costs listed above are standard mostly everywhere across the country. However, you can challenge or negotiate down some fees when buying a new car. Some dealerships add on fees to increase their profit. The state doesn't legally require these fees, so many dealerships will drop them if you threaten to walk away from the purchase. There are some unique fees when buying a new car that may be negotiated, including:
Advertising fees – These are the costs the dealership will sometimes charge buyers to offset the cost of their advertising and can cost up to a thousand dollars or more, depending on the dealership.
Add-ons - The dealer may pass the costs on to you for add-ons to a vehicle, like window tinting or mudflaps.
Destination Fee – This is typically a charge for preparing the car for purchase. This is a standard fee but could be negotiated as part of the sale.
Paint protection or pinstriping - In many instances, a pinstriping job will cost around $25, but a dealer might charge $200 or more for it. While it could affect the look of the vehicle, it isn't strictly necessary, and it's not something you should pay for.
Pro tip:
Do your research before you buy. An informed buyer is a powerful buyer.
Are there additional fees when buying a used car?
Fees can, for the most part, be negotiated. There are several things you can do during the sales process to help bring the cost down.
Don't be afraid to look at different dealerships. If you live in a state where documentation fees have no limit, you may be able to get better prices at a different dealer. Look out for what's known as the "supplemental" sticker. It lists markups and add-ons besides the factory MSRP sticker. If you see a dealership with these stickers, walk away.
Take the time to research the average cost of the vehicle that interests you. Know its Kelley Blue Book value, the cost of add-ons, insurance, and other expenses. If you're an informed buyer, it'll give you an edge in negotiations. Ask the salesperson for a complete, detailed breakdown of all expenses before you agree to a deal. This gives you a better understanding of what you're expected to pay and what it'll cost you overall.
Once you've made your purchase, congrats! Consider protecting your vehicle with Progressive
Go online
We ask easy questions, and you customize your coverages.
Get a car insurance quote
Call a rep
Talk with a licensed representative who can guide you through the process.
Call 1-866-731-8075
Through an agent
Connect with an independent agent in your area.
Find an agent online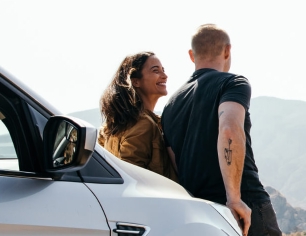 Quote car insurance online or give us a call