What is a graduated driver's license (GDL)?
Graduated driver licensing (GDL) laws offer teens several checkpoints on the road to becoming fully licensed drivers. There's no federal GDL program in the U.S. However, each state has a GDL program in place, with minimum age requirements for teens to obtain each level of licensing. GDL laws are designed to keep everyone safer on the road by reducing accidents involving young drivers.
3 min to read
The three stages of a GDL program
Although each state has individual GDL guidelines, every GDL program structure generally consists of the same three steps for teen drivers:
Learner's permit
A learner's permit is issued when a teen passes a written driver's ed course and/or test that allows them to begin practicing behind the wheel with an approved adult driver, like an instructor or parent. Learn more about getting car insurance with a learners permit.
Intermediate license
After a specified time, logged number of driving hours, and/or passing a practical test, a teen might qualify to replace their learner's permit with a license that has a few restrictions. The restrictions typically center on nighttime driving and the age and number of passengers allowed in the car. This intermediate driver's license may sometimes be called a provisional license or junior license, or it may simply be known as a driver's license.
Full license
A graduated driver's license (or GDL) is a full license that lifts all restrictions and allows a teen to drive freely with the same privileges (and responsibilities, of course) as an adult after "graduating" from the intermediate stage. Depending on the state, the driver may achieve full licensing by reaching a certain age. Learn more about car insurance for teen drivers.
What's the age requirement for an intermediate driver's license?
Many states require teens to be at least 16 when they get an intermediate license, but it can differ widely between states. For example, in South Dakota, teens can receive a driving license at 14 years and three months, but New Jersey's minimum age is 17. Check with your state's BMV or DMV for its intermediate license requirements. And remember, many state requirements also include driver's ed, testing, and/or a minimum number of driving hours logged before an intermediate license can be issued.
If you have a new teen driver, you should also learn about your state's minimum car insurance laws and requirements.
Teen driving laws: How to find the driving age by state
With GDL and any teen driving laws, consult your state's BMV or DMV for specific age requirements. The Insurance Institute for Highway Safety also has a tool to help you find graduated licensing laws by state.
Note the minimum age, driver's ed, and testing requirements for all the GDL program stages in your state: the learner's permit, the intermediary license, and the full license. Full driving privileges often happen around age 18 but can range from 16 to 21, depending on the state.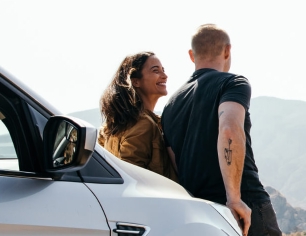 Quote car insurance online or give us a call