Can I keep my out-of-state driver's license?
If you're moving permanently, you must get a new driver's license in your new state of residence. You could face fines and penalties if you don't get a new license within the allotted timeframe. However, you may not need a new license If your move isn't permanent. State laws will vary, so it's important to check your state's laws for exact details.
3 min to read
How do I switch my driver's license from state to state?
Getting a new license in a new state is a relatively straightforward process. The process varies by state, and there may be additional requirements for drivers under 18. There are a few general steps to follow when switching your license to a new state.
Gather necessary documentation
You'll need to gather a few items, including:
Your current drivers license
A second form of ID
Proof of your new address (e.g., utility bill, bank statement, etc.)
Proof of your Social Security number (e.g., Social Security card, W-2, etc.)
Payment
Head to your local DMV
If your state allows it, make an appointment before you go so you don't have to wait in line.
Take a vision exam
If you wear glasses or contacts, bring them with you. Some states may require you to pass a vision test, especially if your old license indicates you require glasses to drive.
Trade-in your out-of-state license
The DMV may issue you a temporary license until your permanent one is ready.
Check the mail
If the DMV doesn't issue your permanent license immediately, you will receive it in the mail, usually within a week or two.
What if my license is expired, suspended, or revoked?
Rules for transferring an expired license vary by state. If your license has been expired for a short time, you may still be able to transfer it. If it's been an extended time, you'll need to start from the beginning and pass your driving test again, including the written and practical portions of the exam. You may also need to take a safety course before taking the driving test, depending on the state and your age.
If your license was suspended or revoked in your previous state, you typically won't be able to transfer it to your new state. You will have to wait until it's reinstated before you can get a new license. You'll want to pay attention to your current divers license expiration date because there is a penalty for driving without a license.
Go online
We ask easy questions, and you customize your coverages.
Get a car insurance quote
Call a rep
Talk with a licensed representative who can guide you through the process.
Call 1-866-749-7436
Through an agent
Connect with an independent agent in your area.
Find an agent online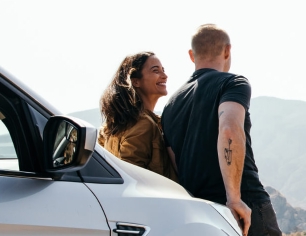 Quote car insurance online or give us a call