How does renting a boat work?
Renting a boat allows you to get out on the water without any of the headaches of owning one. And the process is simple. All you need to do is find a boat that's available for rent or charter, work with the owner or broker to schedule your rental and agree on a price. Boats typically rent by the hour or by the day. Once you pay the fee, you can focus on enjoying your time on the water.
3 min to read
What's the difference between renting a boat vs. owning a boat?
As you may guess, renting a boat is easier than owning one. Renting a boat can be expensive, but not nearly as expensive as owning a boat. Avoiding the cost and time of boat upkeep makes renting a great alternative, especially for occasional use. Ask if the rental agreement includes boat insurance coverages. You may have the option to add additional coverages to cover things like medical bills or equipment repairs. Learn more about how boat insurance works.
When you own a boat, costs can add up between monthly payments, maintenance and repair costs, dock storage fees, and boat insurance.
Where can you rent a boat?
Local marinas
If you live or vacation near water, local marinas often have boat owners who rent out their boats for extra income. Many marinas also have offices for brokers who buy, sell, and charter boats and can help you find a boat to rent.
Online listings
You can find boats available for rent online. You can choose between regional listing boards and general booking sites like Boatsetter.
Referrals
Another way to find a boat available for rent is to ask friends and family. Many people rent boats, so ask around to see what experiences people in your network have had with brokers and owners.
Specialty shops
Located in every seaside town are offices dedicated to tourism, fishing, scuba diving, and snorkeling. Since many of these activities go together with boating, these shops often have information about where you can rent a boat locally.
Areas popular for boating also have brokers who help people buy and sell boats. If you think you may want to buy a boat, a local broker may be able to arrange for you to spend some time on a similar vessel so you can try it out.
How much does it cost to rent a boat?
The cost of renting a boat varies widely based on the age and type of boat you're renting. It also depends on how the rental agreement is structured. For example, many small boats are easy to handle, and brokers rent them to almost anyone with boating experience over 18 years of age. You typically pay a daily or hourly fee and cover the cost of the fuel you use. Larger boats can be more complicated to operate. They may require a captain who has special training and insurance.
If you choose to rent a larger boat, you may have to pay a daily rental fee, plus the cost of fuel and a fee for the captain. Or, in some cases, the rental is set up as a daily charter with a single fee that's all-inclusive.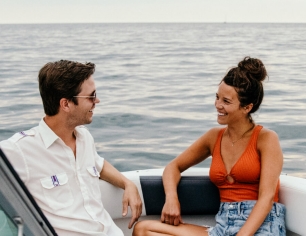 Enjoy life on the water with boat insurance from Progressive