How to rent out a house
Whether you want to rent out an entire single-family home, part of a duplex or triplex, or just a room in your house, becoming a landlord carries many of the same risks and rewards as starting a business. Prepare for success by learning about your area's laws regarding landlord-tenant relations, how to get the house ready to rent, how to market your house, and how to screen renters effectively.
5 min to read
What are the requirements to rent out a house?
One of the most important things you can do if you're new to real estate management is research local laws and regulations. Before you rent the property, draw up a lease — a legally binding contract. Make sure to understand your obligations as a landlord and what can and can't be stipulated in the contract.
For example, in many areas, landlords are required to give a minimum of a 24-hour notice before entering a rental property for repairs or maintenance, while other areas require more. Make sure your lease agreement complies with the law. Consider getting the help of a lawyer or other professional when you create your lease agreement.
List everyone who'll be living in or financially responsible for the home, not just the primary renter. That may include people who don't live in the building, like co-signers or guarantors. Being precise and comprehensive in your rental agreement helps avoid problems and ensures that you have legal recourse if something happens.
Renting out a house for the first time
In a perfect scenario, your tenants will maintain the property and always pay rent on time. You'll need to occasionally check in on the property, address issues that come up, and maintain your financial records. If you're not willing or able to do these tasks, you can hire a property management company to do them on your behalf.
How to get a house ready to rent
Before renting out your house, it needs to be in good condition. A well-maintained home is easier to market, and you can't rent a house that isn't safe to live in. Before you market your rental, consider the following:
Is your house up to code? It needs to be if you want to rent it legally.
Do you have homeowners insurance on your rental? Even if property insurance isn't required by law, a homeowners insurance policy can protect you if something happens to your property. Some landlords also require that tenants carry renters insurance to avoid conflicts about damage to the tenant's personal property.
Do you know what fair rent for your property is? Research the market in your area and set a reasonable but competitive rate.
Are there any outstanding repairs needed? If so, get them fixed. To potential tenants, they'll be irritations that may make it difficult to rent out the house.
Is everything clean? Curb appeal and a clean house can make a big difference in finding tenants.
You may also want to get the building professionally inspected, which can identify issues before you can safely and legally rent out your house. Look at other houses for rent in your area and see how yours compares in terms of amenities and size, which can help you decide if you want to make any improvements. For instance, if yours is the only house in the neighborhood that doesn't have a dishwasher, adding one may help you compete with nearby properties. Learn more about what landlord insurance covers and how home inspections work.
Finding renters
The first step to finding tenants is creating an ad. Consider what sort of renter might want to live in a neighborhood and house like yours. If it's a large property with many bedrooms near a university, it could be ideal for students. You may to need to consider whether you're comfortable with the possibility of parties and groups of people coming and going. Create an ad that highlights how the house is a good fit, focusing on the home's bedrooms, safety features, and proximity to schools. Be sure to include details that make your property stand out, like new appliances, hardwood floors, or an upgraded kitchen.
Don't underestimate the value of competitive pricing. According to a 2021 study by Zillow, budget is the number one selling point for most renters, followed by the number of bedrooms and floor plans. Extras like a shared recreation space were much less important, indicating that most people are looking for a house that fits into existing routines and budgets rather than a place that offers everything on site.
Screening potential tenants
Start looking for tenants as soon as the house is ready to rent and you're prepared to take on the responsibilities of a landlord. You don't want the house sitting empty longer than necessary, but you also want time to screen your tenants. Ideally, this is the beginning of a long-term relationship with reliable tenants you trust.
You're not legally allowed to discriminate in your tenant selection by protected classes like religion, age, or disability. You can ask for rental history, proof of employment history and current income, a criminal background check, references, and a minimum credit score. Keep an eye out for a history of evictions, unstable employment, or criminal record.
Tips for renting out a house
Know your limits
Whether you're preparing the house for the first time or responding to a tenant complaint, don't take on work yourself unless you're sure you can do it to code.
Secure access to the shared spaces
If you're renting out a duplex or only a part of a house, be sure to have a way to close or separate that area from the rest of the house to protect others in the home and reassure your tenant that they can have privacy.
If something is important to you, get it in writing
If you're worried about something specific, include it in the contract. For instance, if you allow pets but have nice hardwood floors in your home, you may include a clause stating that repairs to the hardwood are the tenant's responsibility. Be clear and upfront with your conditions before signing.
Go online
We'll ask simple questions about your property, then you can customize your coverages and start date.
Get a homeowners insurance quote
Call us
Speak with a licensed homeowners representative who can guide you through your quote.
Call 1-866-749-7436
Ask an agent
We'll connect you with a licensed independent agent near you.
Find an agent online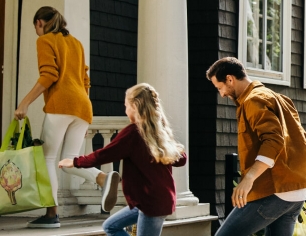 Quote homeowners insurance online or call for advice