Are leather seats worth it?
There's no one-size-fits-all answer because leather and cloth seats have advantages and disadvantages. Consumers have long viewed leather seats as a symbol of luxury, with car buyers paying a premium for leather interiors. Choosing between the two should be determined by your lifestyle and priorities as much as your budget. If leather is right for you, but it's too expensive, aftermarket leather seating upgrades can be a cost-saving solution.
3 min to read
Leather vs. cloth seats: Pros and cons
Pros of leather seats
Easier to clean and maintain: They don't absorb messes and spills as readily as cloth, especially if you have properly treated and cared for them. It's easier to wipe up a high-quality leather surface when something happens.
Doesn't hold stains and odors: If a stain or odor sets into the fabric, it can be difficult or impossible to remove. Whether leather or cloth seats work better with kids, odors and accidents may favor leather seats.
High-quality fabric: For some people, well-made leather seats are worth it for the tactile experience of sitting in the car.
Durability: Leather seats generally edge out cloth seats, assuming you perform the proper care and maintenance. If durability is a top concern, you should consider leather seats.
Cons of leather seats
Require more maintenance: To keep the leather in good shape, you'll need to clean it regularly and treat it with leather conditioners.
Higher cost for maintenance: Regular maintenance costs time and money you won't have to spend on cloth seats, which usually need to be vacuumed and washed.
Transmits extreme temperatures: When driving in the winter and summer, you may find that leather seats are uncomfortable or necessitate other potentially expensive options.
Should I get leather or cloth seats?
It depends on your budget, lifestyle, priorities, and what other features you want in a car. Most car brands offer cloth seats in their base trims, and car trim levels offer leather seats as an upgrade. Luxury brands may offer either partial leather or leatherette, a faux leather made of vinyl. Leatherette is sometimes used in base models, while automakers offer real or full leather as an upgrade.
When buying a new car, look at the trim levels and options packages for the car make and model you want. Before opting for leather seats, consider whether you enjoy all the other features included in the trim level. Consider the options package and weigh the package cost against the cost of aftermarket leather seats from a reputable company. Find out whether insurance covers car seat replacement.
If you're buying a used car, aftermarket leather seats can allow you to widen your search. If your perfect vehicle doesn't have the leather seats you want, an aftermarket parts installation can upgrade your seats. Discover more tips about what to look for when buying a used car.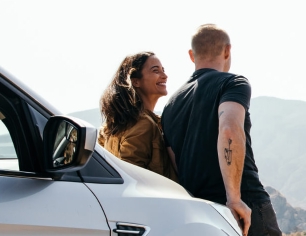 Quote car insurance online or give us a call