Estate planning and life insurance
Life insurance can play a major role in estate planning, from helping your beneficiaries cover your final expenses and estate taxes to leaving a nest egg for your children. You'll need to factor in your life insurance to your estate planning differently depending on if you get a term or permanent life policy.
5 min to read
Types of life insurance for estate planning
Two types of life insurance are typically used in estate planning.
Term life insurance as estate planning
Since term life insurance pays out a death benefit if you pass away during the "term" that the policy is active (usually 10 to 30 years), you might choose this option for estate planning only if you'd like a policy to support your estate until you reach a certain age. You might choose this option if you expect that payment of your final expenses, estate taxes, and any inheritance you want to leave your beneficiaries can come from another source (like savings or investments) after a certain point in your life.
Universal or whole life insurance as estate planning
Permanent life insurance policies stay in effect for your entire life, no matter when you pass away, and they benefit from a cash value that builds over time. You might choose policies like whole life insurance or universal life insurance if you want to make sure your estate taxes, final expenses, and the legacy you plan to leave behind are covered by your life insurance death benefit no matter when you pass away.
When should you start using life insurance in estate planning?
Once you've acquired some assets, purchased a home, or started a family, it's time to consider life insurance in estate planning. It's generally cheaper to get life insurance when you're younger, as your health risks are usually lower. As you age, a life insurance policy will become more expensive. So if you plan to use your life insurance to support your estate, it's best to start planning as soon as possible.
Learn more about life insurance cost factors.
Ways to use life insurance for estate planning
You can use life insurance in estate planning to help your family cover your final expenses, pay off estate taxes, and ensure an inheritance for your loved ones.
Covering final expenses
If you don't want your final expenses to burden your family when you pass away, you can plan for your life insurance death benefit to cover those costs. There are even final expense life insurance policies, but you can use any life insurance policy's payout for final expenses if the beneficiary chooses.
Keep in mind the following costs when calculating your final expenses:
Funeral expenses: According to the National Funeral Directors Association, the median cost of a U.S. funeral with a burial and viewing was $7,848 in 2021. For a funeral with cremation, it was $6,971. You can plan for your funeral costs and factor them into how much life insurance you should get.
Outstanding debts: If you have any debts when you pass, they may become the responsibility of your heirs. A life insurance policy can help cover these debts, so they're not a burden to your family.
Final income taxes: Your heirs may have to cover any back taxes you leave unpaid, as well as taxes due for the year in which you pass away. A death benefit can help cover these expenses.
Paying for estate taxes
Depending on the size of your estate, inheritance taxes can be significant. The death benefit of a life insurance policy is typically tax-free and can help cover any estate taxes.
Equalizing your estate
If you have multiple heirs, a life insurance payout can help equally split your assets between them. This can be especially useful if you have investments that are difficult to divide, like real estate or a business.
Example:You have a vacation home and two adult kids. One wants to sell the property when you pass away, and the other wants to keep it but can't afford to buy their sibling's share. You could leave the home to the child who wants it while purchasing a permanent life insurance policy with a face value like the value of the home. The child who doesn't want the home can be the beneficiary. This allows you to leave them similar inheritances without having to sell your vacation home.
Fund ongoing expenses
The death benefit of a life insurance policy can go toward your loved ones' daily expenses or add to their overall inheritance. It can even help a child with special needs, or an ill or aging loved one. In necessary cases, the death benefit would go into a trust managed by a trustee. Learn more about creating a life insurance trust for a minor child.
Create buy-sell agreements
If you own a business with a partner or multiple owners, life insurance combined with a buy-sell agreement can help you ensure your family is compensated fairly for your share of the business when you pass away.
A buy-sell agreement funded by life insurance policies makes sure your business partners can afford to buy out your portion of the business when you pass away. Each owner purchases a life insurance policy on the other. If a partner dies, the death benefit gives the other partners the funds to buy out the deceased's share of the business.
Online
You'll be asked questions, and then you'll choose your coverage amount and more.
Get a life insurance quote
Call a rep
A licensed representative from Progressive Life by eFinancial will talk you through your options.
Call 1-866-912-2477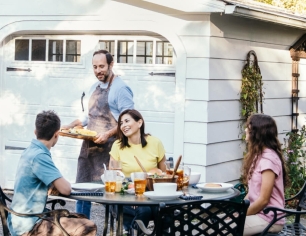 Get a free life insurance quote online in minutes