Sports cars vs. muscle cars
Sports and muscle cars follow a similar objective — hitting high speeds and providing a fun time. While a standard car can get you from one place to another, a sports car or muscle car will make sure you have a great time along the way.
5 min to read
What's the difference between a muscle car and a sports car?
Muscle cars and sports cars are designed to hit high speeds and provide a fun way of getting from point A to point B. Muscle cars have more powerful engines and also feature larger and boxier designs. They reach their best speeds when driving in relatively straight lines. Sports cars are small and sleek and hug the road while driving — giving an extra feeling of control, especially when making tight turns at high speeds.
Muscle cars and sports cars are often grouped together, but they aren't the same. They differ in size — muscle cars are traditionally bulkier while sports cars are small and sleek — and manufacturers have equipped them with different engine styles. Are you considering adding one of these high-performance vehicles to your collection? Compare the differences between muscle vs. sports cars to decide which is right for you.
What is a muscle car?
Muscle cars are known for their powerful engines and a broad, boxy shape. Think classics like the 1970 Dodge Challenger, 1969 Chevrolet Camaro, and 1976 Pontiac Firebird Trans Am. They stood out with long, boxy hoods to contain larger-than-usual engines. Modern-day technology means more recent muscle car engines aren't dramatically larger than those of standard cars. However, they often still feature the classic design.
Classic muscle cars from the 1960s and 1970s are still a favorite among car enthusiasts. Still, there are plenty of modern-day muscle cars too. Newer models include the Dodge Challenger SRT Hellcat, Chevrolet Camaro SS, Dodge Charger SRT Hellcat, and Ford Mustang GT.
Features of muscle cars
Powerful engine: Muscle cars have engines typically V8 or larger and have more horsepower than most cars.
High speed: The powerful engine in a muscle car allows it to reach high speeds. While sports cars can safely speed through tight turns, muscle cars need to slow down while turning.
Large size: Muscle cars are traditionally larger than sports cars. The larger size means they also have more interior space, leading to extra comfort and more trunk space.
Domestic production: American companies like Dodge, Chevrolet, and Ford make most muscle cars. Many international cars producers also design sports cars. Learn more about foreign vs. American cars.
Low fuel efficiency: If you're looking to lower your carbon footprint, a muscle car may not be for you. The high-power engine goes through more fuel than the average car.
Safety: When hitting high speeds in a muscle car, it's reassuring to know that most score well in crash tests. Muscle cars are also heavier and more elevated than most sports cars, meaning they tend to handle better in different weather conditions.
Features of a sports cars
Where muscle cars are large and in charge, sports cars are small and sleek. Their design is aerodynamic and inspired by race cars. Some of the most popular sports cars on the market today include the Porsche 911 Carrera, Mazda MX-5 Miata, Jaguar F-Type, and Audi R8 Coupe.
Common characteristics of sports cars include:
Quick acceleration and speed: Sports cars and muscle cars are both known for their speed. Where muscle cars focus more on power, sports cars focus on quick acceleration.
Small and compact design: Sports cars are smaller than muscle cars and usually look sleeker. Inside, there's typically less space. Two-seater sports cars are common, and trunk space is often limited.
Affordability: The average sports car costs less because muscle cars have more powerful engines and larger bodies, costing more to produce.
Excellent control on curvy roads: Muscle cars go fast when driving in a straight line, but sports cars also keep up that speed through turns. They hug curves in the road, giving a superior feeling of control.
Good variety: Most major car manufacturers have a sports car option in their lineup. Whether you'd prefer something domestic or international, high-end or modestly priced, there's a sports car out there for you.
Fuel efficiency: A slightly less powerful engine and more lightweight design mean you'll likely need less gas to run a sports car vs. a muscle car. For even more fuel efficiency, there are hybrid and electric cars like the Tesla Roadster and Porsche Taycan.
Does insurance differ for a muscle car vs. a sports car?
Both types generally cost more to insure than your standard sedan. That's because car insurance companies factor in several things when calculating rates, such as engine size, speed, safety, and repair costs. Since muscle cars have stronger engines than sports cars, they often have higher premiums. Learn more about insuring sport and exotic cars.
Muscle cars vs. sports cars: Which is better?
If you're looking for a fun drive, you'll achieve that with both muscle cars and sports cars. One isn't better than the other — it all depends on the experience you desire. If you need more storage space, want something that feels powerful, and tend to drive on straight highways, you may love a muscle car. On the other hand, if you prefer high control and speed on curvy roads or want something more fuel-efficient, a sports car may be for you.
The appearance of a muscle car vs. a sports car is also distinctly different — look into the vehicle whose appearance you prefer.
Online
Answer some easy questions and choose coverages.
Quote auto insurance online
Call us
A licensed representative will answer any questions you have.
Call 1-866-749-7436
Ask an agent
Need local advice? We'll connect you with a licensed independent agent near you.
Find an agent online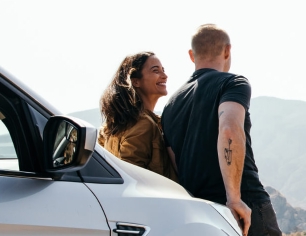 Quote car insurance online or give us a call