Renters insurance vs. homeowners insurance
You likely already know that renters insurance protects tenants and homeowners insurance safeguards homeowners and their property. And if you've started shopping for renters insurance, you may also already know how affordable a renters policy can be. If you're looking into homeowners insurance for the first time, you'll notice that the cost of homeowners insurance may be more expensive than renters insurance. This is because a homeowners policy protects your home's structure and will typically offer more coverage than a renters policy.
4 min to read
Renters insurance vs. homeowners insurance cost
Renters insurance is generally inexpensive, but the actual price of your policy will depend on several factors, including the state in which you live, type of residence, credit score and coverage limits.
Home insurance will typically cost you more than a renters policy. Like renters insurance, a variety of components determine your policy price, such as your location, type of home, construction of your home's roof, prior claims, and coverage selections.
Learn more about how much renters insurance costs and the average cost of homeowners insurance.
What's the difference between renters and homeowners insurance?
The main and most obvious distinction between renters insurance and homeowners insurance is that a homeowners policy safeguards the home's physical structure against covered perils while renters insurance won't protect the home or building occupied by the tenant. Dwelling coverage on a homeowners policy may pay to repair or rebuild a home after damage due to a covered peril. Renters policies typically don't contain dwelling coverage. If an apartment building or rental house is damaged by a covered peril, the building owner or homeowner is responsible for having insurance on the structure, not the tenant.
While both renters policies and homeowners policies offer personal property coverage in order to protect your belongings, coverage limits are determined differently. Renters insurance policyholders are usually able to set their own limit based on the value of their belongings. For homeowners policies, personal property coverage is often calculated by using a percentage of the policyholder's dwelling coverage limit.
Learn more about how much home insurance is needed.
Loss of use coverage also appears on both renters and homeowners policies, but the coverage limits can vary. Homeowners policies typically offer 10% or 20% of the policy's dwelling coverage amount for loss of use coverage. However, depending on the insurer, the loss of use coverage limit on a renters policy may be a flat amount between $3,000 and $5,000 or could be a percentage of the personal property coverage limit.
Neither homeowners or renters insurance is required by state law. However, homeowners insurance is normally mandated by the lender if there is a mortgage attached to the property. Renters insurance may be required by a rental company or landlord before a tenant can occupy an apartment unit or rental house.
Stay protected with homeowners or renters insurance
Online
Answer questions about your property and then customize your coverage to your needs.
Quote home insurance
Call a rep
Talk to a licensed representative who can answer your questions.
Call 1-866-749-7436
Through an agent
Talk to an independent agent about your options.
Find an agent online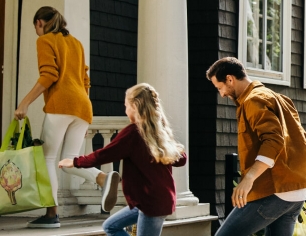 Quote homeowners insurance online or call for advice