How much does it cost to insure a moped or scooter?
The rate you'll pay for your scooter insurance and moped insurance is based on several factors, including your age, location, driving history, type of scooter, and mileage. The type of insurance you choose will also impact the price. You may benefit from a discounted rate by following a few additional measures, such as taking a motorcycle safety course, having a motorcycle endorsement added to your license, or paying for your annual policy up front.
4 min to read
Scooter and moped insurance cost factors
Several components are considered by insurance companies when determining your rate. The most common include:
Age: Rates are typically higher for new drivers and drivers under 25 years old.
Location: Minimum coverage requirements vary by state, and areas with a higher rate of accidents or theft may also have higher insurance rates.
Driving history: You'll likely qualify for low rates if you have a clean driving record. Your rate may increase if your driving history includes traffic violations or accidents.
Type of scooter or moped: The make, model, age, and overall value of your vehicle are factored in when calculating your rate. The engine size is a factor, too: generally, a 50cc scooter has an insurance cost lower than that of a 150cc scooter.
Mileage: If you drive your scooter or moped daily, your rates will likely be higher than if you only drive it occasionally.
What other factors impact scooter and moped insurance cost?
Scooters and mopeds are classified in the same category as motorcycles, so you'll purchase motorcycle insurance to protect your vehicle. The amount of coverage you choose will also influence your scooter insurance cost. Options include:
Bodily injury and property damage liability
This is the basic scooter insurance coverage required in most states, and it's also the most affordable option. It only covers property damage if you're at fault in a collision.
Comprehensive and collision
Unlike car insurance, comprehensive coverage and collision coverages are always sold together on a motorcycle policy to protect your scooter or moped from theft, collisions, and damage due to things outside of your control.
Carried contents and belongings
This ensures your belongings that you take along with you on a ride, including your helmet, phone, and wallet. You'll be covered if someone steals your belongings from your scooter or if they get lost or damaged during a ride. Learn more about motorcycle insurance and motorcycle insurance coverages.
How much is moped insurance on average?
Scooter and moped insurance are sold as motorcycle policies. Your rate may change based on the factors mentioned and whether you're eligible for any additional discounts. Liability coverage is the basic requirement in most states and is also the most cost-effective option. Extra insurance coverage for comprehensive and collision or carried contents and belongings costs a bit extra.
When picking out an insurance policy, you'll often choose between a higher premium and a lower deductible or a low deductible and higher premium. Suppose you have a safe driving history and don't expect to file any insurance claims on your vehicle. In that case, you may save money by opting for a higher deductible that a lower rate would typically accompany.
Ways to lower your moped and scooter insurance rate
Your age, location, driving history, and type of scooter or moped are the main factors determining your rates, but they're not the only ones. There are also several steps you can take to lower your moped insurance costs with Progressive, such as:
Get an advance quote.
Take out multiple insurance policies with Progressive.
Get a motorcycle license or have a motorcycle endorsement added to your license.
Become a member of Harley Owners Group or United Services Automobile Association.
Complete an approved motorcycle safety course.
Be accident-free for three years.
Switch to Progressive from another insurance company.
Pay for your policy up-front.
Always pay on time.
Sign up for automatic bill pay.
As a loyal customer, you may benefit from decreased moped and scooter insurance rates over time if you keep up a safe driving record.
Get a quote for scooter and moped insurance
Go online
We'll ask easy questions, then you choose coverages.
Quote scooter and moped insurance online
Call us
Talk to a licensed representative who can help you choose the right coverage for you.
Call 1-855-347-3939
Talk to an agent
If you want local advice, we'll connect you with a licensed, independent agent near you.
Find an agent online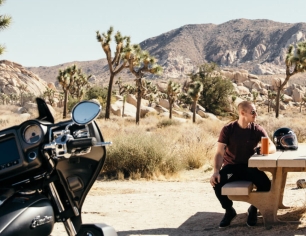 Enjoy life on two wheels with motorcycle insurance from Progressive