Does temporary car insurance exist?
Temporary auto insurance doesn't exist from major insurers, but there are options if you'll only be driving temporarily. If you own your vehicle, you can buy a six-month policy, cancel when you're done driving, and avoid paying for months you don't drive. You can also consider pay-per-mile auto insurance if you only drive occasionally. If you're driving a car you don't own, you can look into other options like non-owner insurance, rental car insurance, and being added as a driver on someone else's car insurance temporarily.
4 min to read
Can I sign up for daily, weekly, or monthly car insurance?
You may find lesser-known insurers advertising one-day or weekly car insurance, but be wary, as they could be a scam or provide insufficient coverage. In contrast, major auto insurance companies typically sell six-month or yearly policies.
Luckily, it's easy to sign up for a standard auto insurance policy and only use it temporarily. For example, you can purchase a six-month policy and cancel it after a couple of months if you sell your car or when you're done driving. You won't be charged for the remaining months after you cancel, though you may pay a cancellation fee. Learn more about when to cancel insurance after selling a car.
If you own a car that you only drive occasionally, you could save money by enrolling in a pay-per-mile insurance plan. Drivers who don't drive much could be rewarded with more affordable car insurance.
Pro tip:
Before canceling your policy, make sure you won't need to drive your car for any reason. There are state car insurance requirements if you're driving your vehicle, and a lapse in car insurance coverage while driving could result in legal consequences like tickets, a license suspension, or even jail time. A lapse in coverage could also result in higher insurance rates for a future policy.
What about short-term car insurance for a car I don't own?
If you're planning to drive a car you don't own, here are some temporary auto insurance options to consider:
Non-owner insurance
Insurance for borrowed cars works similarly to standard auto insurance, but it's available when you'll be driving a car you don't own. A few examples include driving a friend or family member's car, renting a car, or using car-sharing services like Zipcar and Getaround. You can purchase non-owner insurance in increments of six months or a year, and it's generally cheaper than standard car insurance.
You can also cancel a non-owner policy whenever you want to avoid paying for extra months you don't need. It includes liability coverage, which helps pay for property damage and another driver's injuries if you're at fault in an accident. Some non-owner insurance plans also offer extra coverages like medical payments, personal injury protection, and uninsured motorist coverage.
Rental car insurance
While standard car insurance and non-owner insurance will keep you protected while driving a rental car, the rental car company will also have insurance options available. These options are usually more expensive, but they have a couple of perks if you'll only be driving short term. Rental car insurance typically has a very low or no deductible.
Permissive driver
When a friend or family member gives you permission to drive their car, their auto insurance will protect you in case an accident occurs. You can also be added as a driver on a friend's policy temporarily if you plan to drive their car regularly. Keep in mind that there will be a deductible to pay, and their premium could go up if you get into an accident while driving their car.
When would you need temporary auto insurance?
There are several circumstances where you may need temporary car insurance. A few examples include:
You're a college student and only drive during summer break
You're visiting a location where you'll want access to a car
You'll be staying with a family member or friend and borrowing their car
You live abroad and will be driving while visiting the U.S.
You own a car that's only driven seasonally
You bought a car that you're planning to resell soon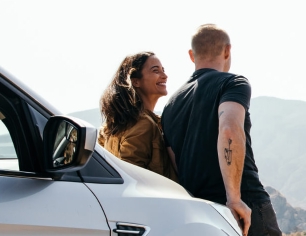 Quote car insurance online or give us a call