What is a home buyer's warranty?
A home buyer's warranty offers a buyer protection against the failure of a house's appliances and important systems like HVAC and plumbing. Unlike homeowners insurance, a home buyer's warranty can cover wear and tear and normal failure without the need for an unforeseen event like a natural disaster. By paying a monthly fee for the warranty, homebuyers can make it easier to budget for the potentially expensive repairs that happen sooner or later in any home.
2 min to read
Home buyer's home warranty vs. homeowners warranty
Both types of home warranty offer similar coverages. The difference is that buyers typically purchase a home buyer's home warranty before closing on a home. A home buyer's warranty typically doesn't cover existing issues flagged in a home inspection. The buyer expects the seller to repair those items or deduct the cost of the repairs from the purchase price. As a result, a home buyer's home warranty is usually less expensive than a homeowner's warranty, which may cover systems that are older or closer to needing repair or replacement.
What does a home buyer's warranty cover?
A home buyer's warranty usually covers major appliances and/or systems like plumbing, heating, and cooling, and electrical. Some providers and plans let you customize your home warranty insurance coverage by selecting specific combinations of items (e.g., systems plus just the refrigerator and oven).
How does a home warranty work for the seller?
Sellers may choose to get a home warranty policy to cover their home and make it more appealing to buyers. A home warranty policy gives buyers the confidence of knowing that there's protection for the whole property. That can make things easier for the seller, too. If something breaks soon after closing, the buyer won't need to contact the seller. Learn more about how home warranties work.
Are home warranties transferable?
In general, yes. Sellers can use their existing home warranty protection as a selling point with potential buyers. However, each provider has different policies so check the details of any plan before purchasing.
Is a home buyer's warranty worth it?
The needs of each homeowner are different. If you're buying a house, having a home buyer's warranty can give you protection against big repair bills. If something happens to the major appliances and systems, the warranty will cover it. Depending on your concerns and finances, a home buyer's warranty can provide peace of mind.
For many people, the outlay of a down payment, closing costs, moving expenses, and all the other costs associated with buying a home can be stressful. A home buyer's warranty may make it easier to budget for further expenses and make unexpected repairs more manageable financially.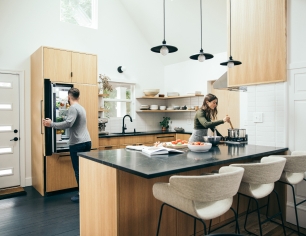 Get a home warranty today for peace of mind