What is a pontoon boat?
Pontoon boats have large decks on top of long tubes called pontoons. They sit above the water, are spacious, provide a smooth ride, and have good safety ratings. Pontoons are primarily designed for freshwater use. Their spacious decks make them ideal for socializing, and you can also enjoy activities like waterskiing and fishing. If you're looking for a fun and spacious boat, a pontoon boat could be the perfect fit for your family.
5 min to read
How are pontoons different from other boats?
Pontoons may be 20 to 30 feet long and are known for their large deck space. That space is customizable on most pontoons, so you can arrange the seating and deck furniture in any way you like. There are plenty of fun water activities to enjoy from a pontoon, such as fishing, wakeboarding, and waterskiing. They're also popular for entertaining. Two pontoons are standard on pontoon boats, but there are also some boats built on three pontoons called "tri-toons."
A few defining features set pontoons apart from other boats. Some things to know about pontoon boats include height, accessibility, and engine.
Height
Pontoons sit higher above the water than the average boat, which means you're less likely to be sprayed or splashed by water while cruising. The height also helps pontoons cut through waves, leading to a smooth ride.
Accessibility
The height of pontoon boats means that the deck often sits level with the pier when docked. This makes them easy to get on and off, particularly for elderly passengers or people with physical disabilities.
Engine
Many boats have an internal engine, but pontoons are designed with an outboard engine. Outboard engines are typically easier to maintain and have better fuel efficiency than inboard motors.
Where can you drive pontoons?
Lakes, rivers, and the Intracoastal Waterway are the most popular places to drive pontoons. You can also take a pontoon in the ocean if you stay within a few miles of the shore. While pontoons cut through small waves nicely, they can be dangerous if you start to encounter large waves or rough water. Saltwater can also corrode pontoon boats since they're mainly designed for freshwater use.
What are the pros and cons of pontoon boats?
There are pros and cons to pontoon boats, so it's important to know what to look for when buying a pontoon boat.
Pros of pontoon boats:
Some of the top features of pontoon boats include:
Comfort: Pontoons have large and spacious decks that can accommodate several people in addition to furniture. Many pontoon owners like to incorporate comfortable seating or even daybeds around their deck. The spacious design of pontoons also makes them ideal for entertaining.
Storage: Most pontoons come equipped with a good amount of storage space.
Easy to maintain: Because the hull sits above the water, it's easy to clean and less likely to get dented compared to other boat models. The outboard engine is also easy to reach for maintenance.
High safety ratings: Pontoons are known for their safety compared to other boats with outboard motors. Their large size keeps them stable, and high railings make them ideal for people with kids or pets.
Easy to drive: Pontoons handle well and are an excellent option for beginners. Depending on your state, you may need a boating license to operate a pontoon.
Cons of pontoon boats:
Some potentially negative things to know about pontoon boats include:
No built-in cabins or bathrooms: Since the deck is built on top of the pontoon tubes, there's no space for under-deck cabins or bathrooms. However, installing a portable toilet or changing room on the deck is possible.
Wider than the average boat: The width makes them harder to tow behind your car. It also means pontoons leave larger wakes behind them than the average boat — something to be aware of if you're planning to use your boat somewhere with no-wake zones.
Certain activities can be dangerous: Getting too close to an outboard motor is unsafe. This rules out activities like wake surfing that require someone to be directly behind the boat. You should only swim around the boat when the engine is turned off.
Lower speed: Pontoons can hit decent speeds, but they typically go slower than other motorized boats. You can consider high-performance models if you have speed in mind.
Is a pontoon boat right for me?
Consider where you're planning to use the boat and what activities you want to use it for. Pontoons are excellent for socializing and cruising through areas with fresh water. If you're looking to venture far from the shore or spend evenings sleeping on your boat, a pontoon may not be the right fit for you.
Whether you go forward with buying a pontoon boat or decide another type of boat is a better fit, you will need some level of boat insurance. Although insurance isn't required in most states, a boat can be a big investment, and insurance provides peace of mind in case something goes wrong. Pontoon boat insurance rates tend to be on par with boats of a similar size, and Progressive offers quotes starting at about $100* per year. Rates are calculated based on several factors like boat age and model, engine power, and where you'll be using the boat, so exact rates vary.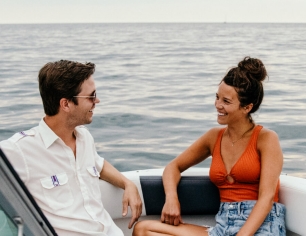 Enjoy life on the water with boat insurance from Progressive