What is electric bike insurance?
Electric bike insurance, or e-bike insurance, is an insurance policy to protect you and your e-bike in the event of an accident or a covered loss such as theft, vandalism, or damage to the bike itself. E-bikes can vary greatly depending on the type of motor your e-bike has and how fast it can go, and e-bike insurance can work different based on your insurer. While some insurance companies may cover e-bikes under a home insurance policy, others may provide your bike with its own policy.
2 min to read
Do you need insurance for an electric bike?
Most states regulate e-bikes as regular bicycles, which means that there are no insurance requirements. Still, e-bike laws vary from state to state and change over time, so it is important to know the laws in your state. Regardless of whether insurance is mandated in your state, insuring your e-bike may be a smart decision. Many e-bikes are an investment – not only because of their dollar value – but because they're a reliable form of transportation. As such, you'll want you ensure your investment is protected against things like theft and/or damage while it's being stored at your house.
This type of coverage may be provided by your homeowners insurance or renters insurance policy, but that coverage typically only extends to losses that happen while the bike is at your place of residence. Learn more about how e-bikes work.
How much does electric bike insurance cost?
A basic e-bike insurance policy can provide liability and property damage coverage, but the best e-bike insurance policy is one with coverages for things outside of your control with comprehensive coverage and collision coverages. Affordable e-bike insurance policies exist, but the final cost will depend on a variety of factors, including your age, location, driving history, and the class of e-bike you'll be insuring.
How to insure an e-bike
Because e-bikes are meant to take you from place to place, the likelihood of an incident happening while your e-bike is not at home is far greater. In this case, you'd want a policy that can protect you and your e-bike in the event you get clipped by another vehicle, you collide with another vehicle, pedestrian, or stationary object, or your bike gets damaged or vandalized. Some insurance for e-bikes may even act similar to motorcycle insurance and even reimburse you if your riding gear is damaged in the event of an accident. Learn more about how motorcycle insurance works.
Get up to speed with e-bike insurance*
Online
Answer easy questions, choose your coverages, and get the protection you need.
Quote e-bike insurance
Call a rep
Speak with a licensed representative who will help you through the entire process.
Call 1-866-749-7436
Through an agent
Get expert advice from a licensed independent agent near you.
Find an agent online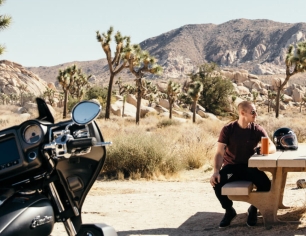 Enjoy life on two wheels with motorcycle insurance from Progressive