What makes a car street legal?
A street-legal car must comply with all federal and state vehicle laws, whether it just rolled off the factory floor or modified in any way. The requirements for street legal vehicles include federal and state laws and regulations. Certain safety, structural, functional, and emissions-related features — and combinations thereof —make a car street legal.
5 min to read
What does street legal mean?
"Street legal" means that a car meets all the regulations for driving on public roads. Any car that you buy from a car dealership should be street legal. When you buy a car from a private party, however, there is a possibility that it might not be street legal.
You can determine how to make a car street legal if you find the right one and it needs some work. Ask a mechanic to confirm whether a used car you're buying is street legal or can be made to be street legal. You can also ask them to evaluate the condition of the vehicle. Learn more about getting a mechanic to inspect a used car and what to look for when buying a used car.
What are the requirements for a street legal vehicle?
Most requirements for a car to be street legal are designed for your safety and the safety of other drivers. Check with your state's Department of Motor Vehicles (DMV) for specific details about each of the following.
Outside your car
On the outside of your car, street legal requirements include ground clearance, emission control systems, tires, brakes, bumpers, license plate, lights, hood, and windshields.
Ground clearance and emission control
If your ground clearance is too low, you can damage the undercarriage or the fuel tank. If it is too high, you run the risk of a rollover. Emission and control systems affect the air in the passenger cabin and the air we breathe. Where state laws vary most is on what is the acceptable amount of pollutants released by your emission system.
Tires and brakes
Tires need coverings like fenders or mud flaps to keep debris from flying at other cars. Most states have a law about minimum tread depth. Not only do you need brakes, but a parking brake — sometimes called a handbrake, emergency brake, or e-brake — is also required.
Bumpers and license plates
Front and rear bumpers are needed, and some states have laws about acceptable height levels. States vary about whether license plates need to be on the front of a car. But there must be one on the rear of the car. Other requirements include being illuminated at night, remaining unobstructed (e.g., wiping the snow off after a storm), and being readable from a distance (usually at least 100 feet).
Headlights and hood
States typically require headlights, taillights, brake lights, turn signal lights, hazard lights, reverse/backup lights, and license plate lights. There also needs to be a closed cover or hood over your engine compartment. There may be a limit to how much higher hood scoops and air intakes that stick out of a hole cut in the hood are allowed to be.
Mirrors and windshield
An external side mirror on the driver's side is a must. States vary on when a side mirror for the passenger side is required. Windshields and wipers keep debris from your eyes and face, and the wipers keep the windshield clear of rain and snow. States have varying laws about tinting of the windshield glass.
Inside your car
On the inside of your car, street legal requirements include seat belts, steering wheel, horn, and rearview mirror.
Seat belts and steering wheel
Federal laws require that you have a seat belt available for every seat in the car. Seat belt laws and regulations vary depending on where you sit, your age, and accommodations (like infant car seats or booster seats). There's no consistent standard for steering wheel size at the federal level. States may regulate a shape (usually round) and a minimum diameter but make exceptions with steering systems for disabled drivers.
Horn and rearview mirror
There are three typical components of horn laws, significant variation within such laws across states. It must be audible at a minimum distance (for example, at least 200 feet). It can't be unnecessarily loud or harsh, which may be a police officer's judgment call. It can't be a sound that would be confused with an emergency vehicle, so there are no sirens, bells, or whistles.
An interior rearview mirror is typically required when you have a rear window. If you drive a box truck with no rear window, then a side-view mirror on the passenger side is generally required.
Can you get insurance for a car that is not street legal?
If a car is drivable but not street legal, some auto insurance companies may not cover it. The company might cancel your policy, especially if they find out you've made an illegal modification. Your auto insurance policy may include exclusion language that addresses situations such as modifying the vehicle in ways that make driving unlawful. Your insurance company may give you a deadline to make your car street legal again before terminating your coverage. Learn more about how car insurance works.
Get the right coverage for your car with Progressive
Current Progressive customers
You can log in or call 1-866-749-7436 to check on your coverages.
New Progressive customers
Quote auto insurance online or call 1-866-749-7436 to insure your car.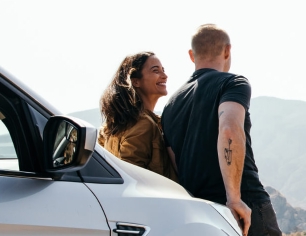 Quote car insurance online or give us a call