Does car insurance cover snow damage and accidents caused by ice?
If you're liable for injuries to another driver or their passengers or you damage their vehicle in an accident caused by severe weather, your policy's liability coverage may cover what you're financially responsible for, up to your liability limits. If your own vehicle is damaged in a severe-weather accident, comprehensive or collision coverage may pay to repair or replace your car, minus your deductible.
2 min to read
How your auto policy may cover accidents caused by winter weather
Often, the threat posed by winter weather is indirect. The car isn't damaged by the snow or ice but by an accident that results from slippery roads. If you're declared the at-fault driver in a car accident in the snow, your auto policy's liability coverage can pay for damages and injuries you cause to others, up to your policy's limits. Damage to your vehicle may be covered by comprehensive or collision coverage.
Is snow damage covered by car insurance?
Comprehensive car insurance coverage on your auto policy can cover weather-related damage to your vehicle. For example, if a falling icicle breaks your windshield or dents your hood, comprehensive coverage can pay to repair or replace your damaged windshield, minus your car insurance deductible.
Does my car insurance cover accidents caused by black ice?
Auto collision coverage can pay to repair or replace your vehicle if it's damaged or destroyed in a black ice car accident, minus your collision deductible. If you're at fault in the accident and liable for another person's injuries and vehicle damage, your auto policy's liability coverage can cover you, up to your liability coverage limits.
Tips to avoid snow damage and black ice car accidents
If you're worried about damage caused by snow or ice, try to park in covered garages that can protect your car. Similarly, avoid parking under ledges, tree branches, or other places where icicles can form. If your concern is accidents caused by black ice and other unsafe winter road conditions, drive slowly and carefully. Avoid driving if the weather is terrible and be mindful of how to manage your car in icy conditions and know what to do if it slides or you lose control.
Remember that normal, predictable wear and tear isn't covered by auto insurance. Get your car checked out by a qualified mechanic before winter hits to identify any problems that cold temperatures might exacerbate and take preventative action against snow, ice, and road salt. Learn more about car insurance coverages.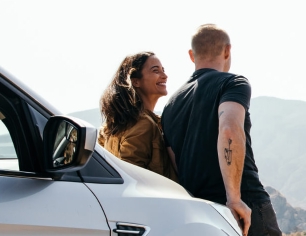 Quote car insurance online or give us a call