How do car trackers work?
GPS trackers for vehicles use satellite navigation data to provide real-time information about your car's location, speed, direction, and distance. Personal vehicle tracking benefits include theft protection, improving teen driver safety, and insurance discounts. GPS technology can be a factory-built option for new cars or an aftermarket product you install.
2 min to read
What are car GPS trackers?
GPS stands for Global Positioning System, a network that works by transmitting signals between satellites and tracking devices, providing users with real-time location information. A GPS can also track speed, direction, distance, and time.
Car GPS devices can work in areas with limited cell phone service because the system relies on satellites. It should show your car's location whether the user interface is on a dedicated device, displayed on your dashboard, or accessible through your smartphone. Learn more about how GPS navigation systems for cars work.
What are the benefits of GPS vehicle tracking systems?
Vehicle tracking systems can protect you, your loved ones, and your car. Knowing your vehicle's location using GPS has several potential advantages. Location data can help emergency responders locate you faster following a crash. If your car is stolen, or your car gets towed, GPS could aid in recovering it.
Parents or guardians can use GPS tracking to monitor their teenage child's driving for safety. You can identify risky behavior and encourage responsible driving with real-time trip data, including speed and location. Some GPS systems also send alerts. Learn more about teen driving monitoring apps.
GPS tracking in a personal vehicle might also protect elderly family members. There's a good chance that a loved one will still try to drive after a dementia diagnosis. Keeping tabs on your car could prevent unexpected trips.
Can I get insurance discounts for sharing my driving data?
You might be able to get an insurance discount for GPS tracking. With your permission many major auto insurance companies offer tracking programs. The GPS devices collect data including speed, trip distance, and other factors such as hard braking, hard acceleration, and fast cornering. Depending on how you drive, you could be eligible for car insurance discounts on your auto insurance premium.
What's the cost of a car GPS tracker?
According to Edmunds, GPS car tracking costs several hundred dollars. For new higher-end vehicles, GPS tracking usually comes with other dashboard technologies in a pre-installed package that can cost several thousand dollars. However, most aftermarket products fall into the $50 to $200 range.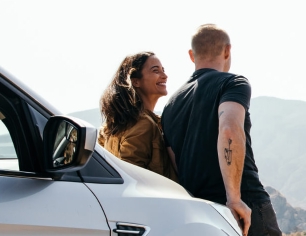 Quote car insurance online or give us a call