How to import a car
To import a car to the United States, the vehicle must meet federal safety and environmental standards, or you'll need to modify it before you can take possession of it.
3 min to read
What to know before importing a car to the United States
Importing a car requires more legwork than purchasing a vehicle from your neighborhood dealership. Before buying a car overseas, there are several things you should know.
Federal regulations
If you want to import a car that's less than 25 years old, it must meet the Department of Transportation's (DOT) safety and theft prevention standards. It must also meet the Environmental Protection Agency's (EPA) emissions standards. Some overseas vehicles are manufactured for sale in the U.S., and meet U.S. safety and environmental requirements. If the car you buy doesn't, you need to have it modified to meet the agencies' standards before you can drive it.
Cars over 25 years old that haven't been modified are typically exempt from EPA and DOT restrictions. If you're buying a classic car, it may not need to adhere to the current regulations. Find out if your imported car is exempt from emissions testing and restrictions.
Import restrictions
The U.S. government prohibits the importation of vehicles from certain countries in Africa, the Middle East, and Cuba.
Shipping containers
There are two types of shipping containers you can choose from when transporting your car overseas — shared and individual. Shared containers house multiple vehicles, and individual containers hold only one. It costs less to ship a car using a shared container. Learn more about how to ship a car.
Insurance
Shipping companies typically have liability insurance. However, they often maintain low limits for the cars they transport. So, you could be on the hook for a significant amount if your car sustains any damage during its trek to the U.S. Having an auto insurance policy on your car could provide additional coverage should something go wrong during the import process. Learn more about if you need insurance to ship a car.
How to import a car to the U.S.
Importing a car to the United States can be overwhelming. Here are things to know that can help you prepare.
Choose a shipping company: Not all transport companies ship overseas, so you'll need to find one that does. Research, compare prices, and read online reviews to find a good fit for you.

Have the car cleaned: The U.S. Department of Agriculture requires that the undercarriage of vehicles coming to the U.S. be cleaned before entering the country.

Contact customs: Let them know when your car will be arriving so you can arrange to pick it up.

Prepare the necessary documents: Before taking possession of your vehicle, you must show the bill of lading from the shipping company, the car's foreign registration, and the bill of sale. You'll also need to submit EPA form 3250-1, for U.S. emissions requirements, and DOT form HS-7, indicating it meets U.S. safety standards.

Complete customs entry form: When you arrive at customs to pick up your vehicle, you must complete form 7501 to show the car was processed at the port of entry.

Pay duty fees: According to U.S. Customs and Border Protection, current rates are 2.5% of the purchase price for automobiles, free or 2.4% for motorcycles, and 25% for trucks.

Take possession of your car: You must be present or hire a customs broker to sign for your car when it arrives.

Make modifications as necessary: If your car doesn't qualify for an exemption and doesn't meet U.S. emissions requirements, you must import it through an independent commercial importer (ICI). The ICI must modify it to comply with EPA regulations before releasing it.
How much does it cost to import a car from Europe?
The exact price varies based on multiple factors, including the size of the vehicle, the type of shipping container, the distance it has to travel, and the shipping route.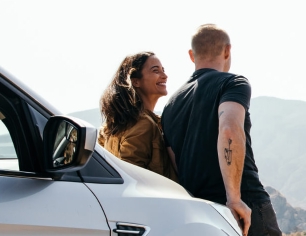 Quote car insurance online or give us a call