How to register a boat
Motorized boats generally need to be registered, typically in the state where they will operate. The new boat registration process involves completing registration forms, providing proof of ownership, and paying a fee.
3 min to read
How does new boat registration work?
You must register a motorized boat with your state. Note the word motorized — small, non-motorized boats like kayaks, rowboats, canoes, and paddleboards don't always need to be registered. Check with your state's laws if your type of boat needs to be registered to make sure you're compliant while enjoying a day on the water.
Your new boat registration has a unique number to identify your boat. It works similarly to a car's license plate number and needs to be visibly displayed somewhere on your boat. You can get registration plates or display the number on both the port (left) and starboard (right) sides of the bow with paint or adhesive vinyl lettering. You'll also receive a registration sticker for the boat, which you'll need to renew each year.
Where to get boat registration
Many states require that boat owners register through the Department of Motor Vehicles. Other states prefer that you register with another state organization, such as the Department of Conservation and Natural Resources, the Department of Fish and Wildlife, or the Department of Parks and Recreation. Do a quick online search to see where to register in your state, then get in touch with that department to start the boat registration process.
How to register a new boat
Depending on where you live, boat and trailer registration may be bundled together as long as your trailer is below a certain weight. Check your state's guidelines, and if you're required to register your trailer separately, the process is very similar to that of registering a boat — you'll file a form, prove ownership of the trailer, and pay a fee.
If you're buying a boat for the first time and filing a new boat registration, there are a few things you'll need to do.
Complete registration forms
Show proof that you own the boat (a boat title or a bill of sale will work)
Pay a registration fee
You'll then receive a registration plate to display on the back of the trailer. Learn more about how to get a boat title.
How much does it cost to register a boat?
Boat registration fees vary based on a few factors: where you live, the size and specifications of your boat, and whether you register your boat on a state or federal level. However, if you decide to register your boat with the US Coast Guard, there's a flat annual fee of $133.
Insure your new boat with Progressive
Online
We'll ask easy questions about you and your boat, then you can choose coverages.
Get a boat insurance quote online
Call a rep
You'll speak with a licensed representative who will guide you through everything.
Call 1-866-749-7436
Through an agent
If you want local advice, we'll connect you with a licensed independent agent near you.
Find an agent online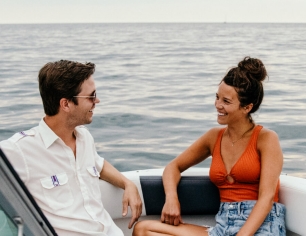 Enjoy life on the water with boat insurance from Progressive