Life insurance for cancer patients
If you have an all-cause life insurance policy and you pass away from cancer while the policy is active, your beneficiaries can claim your death benefit just like with any other cause of death. However, if you've already been diagnosed with cancer, it can be challenging to qualify for a new traditional life insurance policy; you may need to apply for guaranteed issue life insurance, a more expensive policy that doesn't require a medical exam.
5 min to read
Does life insurance cover cancer?
Yes, if you purchased life insurance before your cancer diagnosis, passing away from cancer during the policy's term may be covered. Traditional policies typically have an all-cause death benefit, which means that no natural cause of death, including cancer, should disqualify you from coverage.
Life insurance after a cancer diagnosis
Getting life insurance after a cancer diagnosis is more difficult and may affect the type of policy you apply for. If your diagnosis occurred in the last five years, you may find that your rates are significantly higher for traditional term and whole life insurance policies, or your application may simply be rejected.
Cancer patients who can't get traditional coverage, particularly terminal cancer patients, still have a chance of qualifying for simplified issue and guaranteed issue policies, also known as no medical exam life insurance. Your policy will have a higher rate and lower death benefit than a traditional policy, but you won't have to take a medical exam. And with guaranteed issue, you won't even need to answer questions about your health. Once your cancer has been in remission for many years, it might be possible to switch your simplified issue or guaranteed issue policy to a traditional (and more affordable) policy.
Or, once your cancer has been in remission for five years or so, you might qualify for traditional types of life insurance. It's possible that with some types of cancer — for example, skin cancer or prostate cancer — you could qualify even sooner.
Pro tip:
Be honest in your life insurance application. If you aren't upfront with your insurer about your health, such as if you don't disclose a cancer diagnosis, your insurer could later deny paying out your death benefit altogether.
The type of life insurance you qualify for after being diagnosed with cancer can depend on your insurer, your type of cancer, your current health status, and more. If you're considering applying for life insurance after a cancer diagnosis, here's how insurers might evaluate your eligibility for traditional policies:
Date of diagnosis: If you've recently been diagnosed with cancer, you'll qualify for fewer policy types and more expensive rates than if you've been cancer-free for 10 years. Insurers may have a cut-off point for qualifying for traditional life insurance again — often after you're five years in remission.
Cancer type: Cancers with a higher survival rate or a lower chance of returning once you go into remission will improve your odds of being approved for a policy and qualifying for an affordable premium.
Treatment, medications, and health: For traditional life insurance, you'll need to detail your overall health as well as the types of treatment you've received and their impact on your cancer.
Lifestyle: Riskier lifestyles lead to higher rates, so avoiding dangerous hobbies like skydiving can keep your premium from increasing even more.
Family history: If your family has a history of cancer, you may pay a higher premium than a person with no history of cancer in their family.
Relapses: If you've suffered any relapses, it may impact your ability to get traditional coverage.
Each insurance company has its own qualifiers, so while one may offer you a traditional policy, another may deny your application. Shop around to find the best coverage for your specific health issues.
Can cancer patients use life insurance to pay for treatment?
Having a life insurance policy in place before you're diagnosed can turn into a means of support during your battle with the cancer. Here's how cancer patients may be able to use their life insurance policies to pay for treatment or other costs while they need support:
Using your cash value
If you build up cash value on your whole life insurance or universal life insurance policy before you're diagnosed with cancer, you may be able to use your policy to help cover your medical expenses or replace lost income. You could surrender your policy back to your insurer and receive the cash value in exchange, or you could borrow from your cash value via a life insurance loan (any owed funds at the time you pass away would be deducted from your death benefit). These options may not apply to term life insurance since it doesn't typically have cash value.
Activating a rider
Your policy may have come with life insurance riders, or you may have added one to your policy. Depending on the rider you have, you may be able to activate it when you're diagnosed with cancer, or at a certain point in your battle with the disease. By meeting the conditions required to activate these riders, you'd be permitted to use some or all of your death benefit while you're still alive.
Accelerated death benefit (ADB) rider: Also called terminal illness riders, accelerated death benefit riders allow you to receive a portion of the death benefit while still alive if you're diagnosed with a qualifying terminal illness. There may be a cap on the amount you can access, and the funds you use will be deducted from the death benefit when you pass away.
Chronic or critical illness rider: A specific type of accelerated death benefit, chronic illness riders, allow you to access your death benefit if you meet certain requirements related to chronic or critical illnesses, as defined in your policy. The funds you use will be deducted from your death benefit.
How to get life insurance
Online
You'll be asked questions, and then you'll choose your coverage amount and more.
Get a life insurance quote
Call a rep
A licensed representative from Progressive Life by eFinancial will talk you through your options.
Call 1-866-912-2477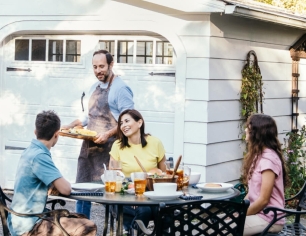 Get a free life insurance quote online in minutes