What's the best way to buy a used car?
You can buy used cars online or in person from a private seller or a car dealership. But no matter where you purchase, following some basic used car buying tips can help you get the right car at the right price. Before you get started, it's important to set a budget, learn how to search for a car effectively, and understand how to negotiate once you make a choice.
6 min to read
Tips for buying a used car: Getting ready
Buying a used car generally has three main phases: researching, finding a car, and making a purchase. During the research phase, you should figure out your budget, needs, and preferred buying method to help you find a vehicle you like and can afford.
Here are a few used car buying tips to keep in mind while researching:
Know your budget: If you don't plan on paying for the car in cash, determine how much you can spend on a down payment and monthly payments. Consider getting pre-approved for a loan before you go looking at cars. Knowing the terms of the loan can help you search for cars that fit your budget. If you wait to get pre-approved for a loan, you might be disappointed to find you can't get a car you had your heart set on — or worse, you might be tempted to take a loan you can't afford because you really like the car.

Our car affordability calculator can help you set a budget that fits your desired down payment, monthly payment, interest rate, and loan term.
Know what you're looking for: When it comes to cars, buyers have different priorities — some are focused on safety, others on comfort or performance. Make a list of the features you can't live without before you start your search. That helps narrow the field and prevents you from being overwhelmed with options.
Know where you want to buy from: Buying a used car from a dealer or buying a used car online offers a certain peace of mind. Dealers check cars before they sell them, so you know exactly what you're getting. Certified cars provide you with even more peace of mind, and some used cars even carry warranties from the dealership. Buying from a used car from a private party doesn't offer the same certainties, but the trade-off is it can be easier to negotiate a better price or find a deal. Deciding which approach is right for you can help you narrow your search even further.
Finding the right vehicle
Once you know what you're looking for, you can start your search. Follow these used car buying tips to select the right vehicles to test drive:
Search for cars that meet your "must-have" criteria: You can search most used car databases with filters to limit your search to vehicles with only the features and qualities you identified in the research phase.
Look at models that save money: The purchase price is only part of the equation. Cars with a lower cost of ownership might be worth paying a bit more upfront since you'll save money throughout the car's life. Very reliable models, cars with low repair costs, or electric/hybrid cars that save on fuel consumption can all be ways to save money in the long run. Older and less technologically sophisticated car makes and models are generally less expensive, even when they have low mileage.

They can be a great place to start looking if your "must-have" list doesn't include the very latest, high-tech features.
Get informed on the cars you like: Once you've found a few good options, do some market research. Find out the average value for the vehicles you've selected so you know what price is fair. Get a range of prices depending on the condition (for instance, the value of the same car in fair, good, and excellent condition). Consider bringing that information with you to the sale. Having evidence of the car's actual value can help in negotiations.
Know the value of your trade-in if you have one: If you're buying a used car from a dealership and plan to trade in your used car, you should know what your trade-in is worth — but keep that information to yourself. You'll need it when you start negotiations, but it's better not to discuss it before you're ready to buy. Learn more tips for trading in a car.
Schedule daytime test drives: Schedule your test drives during the daytime on days with good weather. When you inspect the car, seeing it in good light will help identify flaws. Streetlamps — or worse, your cell phone flashlight — may not reveal imperfections like a sunny day. Learn more about what to look for when buying a used car.
Making the purchase
Once you've decided on a vehicle, follow the previously noted tips for buying a used car, agree on a price, and make the purchase.
Negotiate one step at a time: Start with the price of the car you want to buy. If you're buying from a private seller, don't tell them your budget, and be prepared to walk away if they won't meet you at a fair price. If you're buying from a dealer, only talk about the value of your trade-in once you've agreed on a price and a financing arrangement (if you decide to finance through the dealer). Talking about things one at a time helps avoid price inflation.

For instance, if the dealer knows the value of your trade-in and knows your budget is $4,000, they may inflate the value of a car to meet that budget after the trade-in.
Get your deal in writing: If you're buying from a dealer, they'll draw up all the terms of the sale — but make sure you read it before you sign. If you're buying from a private party, make sure you get everything in writing and that you each have a copy signed by both parties. It should show all the important details of the sale, including buyer and seller contact information, the vehicle's specs (make, model, mileage, etc.), the price, and any other terms on which you've agreed.
Make sure you meet your state's requirements: Different states handle vehicle sales differently. Some require auto insurance coverage to buy and register the vehicle, while other states only require insurance to operate it. Some states require emissions testing or additional verifications as part of the sale. Find out what's required in your state ahead of time to make sure you can complete the sale and take your new car home. Learn more about car insurance requirements by state.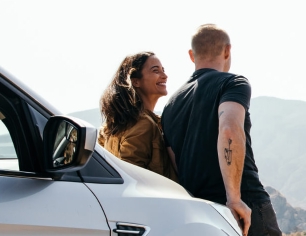 Quote car insurance online or give us a call