What is a junk boat?
When people refer to a junk boat, they usually mean a boat with no equity. These boats are either so old or damaged that they are worth little to no money for resale and aren't worth trying to sell to used boat buyers. Like a car that's been totaled, they'll cost more to fix than they're worth.
3 min to read
How do you dispose of an old boat?
When your boat has sailed its last season, and it doesn't have enough residual value to be worth selling to a used boat buyer, it's considered a junk boat. If you're ready to get rid of your junk boat, you can't just leave it on the curb with the trash. You'll need to contact a local landfill or a boat salvage yard to dispose of your old boat safely and legally. You may also get a little cash for the parts that you can strip and save.
If you think your boat might have enough value to sell, it's better to try selling it before you scrap it. Many modern boats are made largely of materials that can't be scrapped or recycled, so they end up in landfills. If you're sure your boat has no value or you've tried to sell it unsuccessfully, then you can dispose of it or scrap it.
Junk boat removal
Modern fiberglass boats may require special treatment for proper disposal. If you decide to dispose of your old boat, contact your local department of waste to understand the correct way to dispose of fiberglass and boats in your area.
If you're not getting a replacement for your junk boat, your boat trailer may be worth reselling even if the boat itself isn't. If it's not, or you don't want to deal with selling it yourself, a junkyard or scrapyard may be interested in the trailer for scrap metal or resale.
How much can you scrap a boat for?
If your boat isn't worth enough to sell, it might be appealing to scrap dealers. A boat scrap yard or marine salvage can help you junk your boat. They may charge a fee, but it might be less than what you'd pay to dispose of the boat yourself. Specialized scrap yards can remove the fiberglass from the rest of the boat and save any components that are still useful.
If the scrap yard can save enough valuable components, they may pay you for your old junk boat. However, don't expect much. They usually have thin margins and pay for the labor of stripping the boat and then selling the parts. Therefore, they won't pay much for your old junk boat.
The most valuable parts of a scrap boat are usually the metals, which may be recycled or reused. Like many shallow-water vessels, some boats are made mostly of metal (often aluminum) and can be a good candidate to scrap.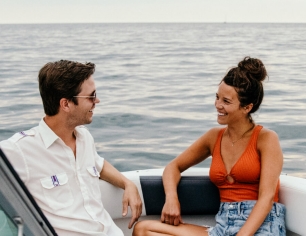 Enjoy life on the water with boat insurance from Progressive