What are the best boats for the ocean?
Regardless of whether you're looking for the best boat for traveling the world or hoping to catch some saltwater fish, the best types of boats for the ocean are stable in deep water, can handle rough waves, and won't be damaged by salt. From there, finding the best ocean boat really depends on how you plan to use it.
4 min to read
How do you choose the best type of boat for the ocean?
Some boat designs are especially well-suited to the ocean. Sportfishing yachts, center consoles, and walkarounds make for some of the best boats for saltwater fishing. Cabin cruisers, catamarans, power yachts, and sailboats, on the other hand, are some of the best boats for ocean cruising.
Regardless of which type of boat you want and if you are a buying a boat for the first time, some qualities are necessary for an ocean-going vessel, while others depend on what kind of boater you are. Essential qualities include: hull design, size, appropriate draft and corrosion-resistant fittings.
What do all the best boats for the ocean need?
Deep-v hulls
Ocean-going boats usually have deep-v hulls that taper slowly to a point under the water's surface. Catamarans and trimarans can have multiple hulls and these styles can handle rough water and make the best boats for the ocean. If you plan to stay near the coast, flat-bottomed boats are great boats for shallow water. These types of boats don't fare as well on the ocean, especially if conditions get rough. For the best of shallow- and deep-water, consider a shallow-v or modified-v hull. While it won't ride as smoothly in choppier water or deeper waves, it'll give you a chance to spend some time closer to the coast.
Strakes and chines are two other hull design features common on many of the best saltwater boats. Strakes are molded lines that run lengthwise on the hull of powerboats and help them reach planing speed while reducing shock to passengers when the boat cuts through waves. Chines are the corners where the hull curves toward the deck. They're often used to create a broad, flat surface at the top of the hull to make the boat more stable at anchor or in hard turns.
Larger size
While some expert sailors have crossed the ocean in boats under 10 feet long, it isn't recommended to hit the ocean in such a small vessel.
Draft depth
A deep draft — the distance between the waterline and the lowest part of the boat — helps keep a boat stable in rolling water. A deeper draft may be necessary as you get farther away from the shore or take longer trips where you risk encountering bad weather. For the same hull design, a longer boat generally means a deeper draft, too — another reason that the best saltwater boats tend to be larger.
The exception are catamarans and trimarans that tend to ride higher in the water than boats of similar length. They're also usually wider, which makes them more stable than their draft suggests.
Corrosion resistance
Saltwater can be damaging to many materials, especially metal. Boats designed for freshwater may not have the right hardware to withstand the corrosive effects of salt. The best boats for the ocean are designed for the rigors of saltwater with marine-grade metals such as stainless steel or marine brass.
Other considerations for boats for the ocean
Storage space
How much storage you need depends on what you plan to do and how many people will be joining you on the water. However, all ocean-going vessels need enough storage to carry the required boat safety equipment for their size. In addition to standard safety equipment, boaters going on the ocean should bring electronic and manual navigational equipment.
And if you plan to go long distances, you'll need more storage space since you can't easily come back in for supplies.
Travel time and sleeping capacity
Along with having sufficient storage for supplies, long trips may also require more crew and sleeping capacity. Boats for long-distance travel not only need to be spacious but also have comfortable features and layouts.
Fuel capacity and efficiency
Ocean-worthy boats tend to have big motors and fuel requirements. That's especially true if you want a boat that's good for activities where speed is required, such as water-skiing and wakeboarding. The best boats for ocean cruising will have large fuel tanks with good fuel efficiency to enjoy your time on the water without constantly having to stop for fuel.
If you plan on taking very long trips, you may also want to consider a sailboat or a powerboat because they can travel farther on the open water without needing to stop for fuel.
Insure your boat with Progressive
New Progressive Customers
Call 1-866-749-7436 or get a boat insurance quote online.
Current Progressive customers
You can easily add these coverages to your boat by logging in to your policy or calling us at 1-866-749-7436.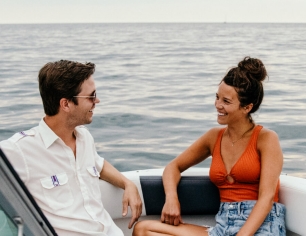 Enjoy life on the water with boat insurance from Progressive