What are the best boats for families?
Finding the best family boat depends on what you like to do with your family, where you live, and how big the family is. For instance, what makes the best family fishing boat isn't the same as what makes the best saltwater boat for families that want to waterski. Before you start shopping, think about who will be using the boat, how often you'll be on the water, and how much experience you have.
5 min to read
What is the best family boat for you?
There are many options, but you can usually narrow your search for the best family boats by thinking about location, family size, activities on your boat and boating experience.
Location
Where you live will determine the type of water you can access and how far you must travel to get there. If you live close and have a way to access the water, you may be able to keep a boat at home and tow it to the water when you want to use it, depending on the size. If you like the idea of a big boat you can sleep on, you may need to find a marina where you can keep it no matter how close you live.
Beyond transport and storage, consider the type of water you'll be boating on. If you want to boat on the ocean, you might look for something bigger, with a deeper draft than freshwater. For those trips to the lake, you might be looking for the best family lake boat. If you mostly have access to shallow water for boating, you might consider a flat-bottomed boat designed with shallows in mind so that you don't run aground.
Family size
A bigger family means a bigger boat. Perhaps you plan to be out with one child fishing more often than with the entire family. Even if that's the case, the best family boats are typically big enough to accommodate the whole family comfortably. If everyone decides to come, you want the experience to be fun — not cramped.
Activities
Are you looking for a boat for water sports like waterskiing and wakeboarding? Or do you want to bond by learning to sail with your family as a crew? The best family boat depends on your family's interests. If you're interested in taking weekend trips, you'll need a bigger boat with space to sleep and ample storage. You might want to consider amenities like kitchen facilities or entertainment options, too.
Boating experience
If you're looking for your first boat, consider looking for something simple unless you have a history of driving a boat and enough knowledge to handle a more complicated vessel. The more technical features your boat has, the more you have to keep track of and spend on maintenance.
What styles of boats make the best family boats?
Once you know what kind of boating experience you're looking for, you can narrow in on the right style of boat.
Pontoon boat
A common choice for families looking to spend a relaxing time on the water without taking long trips. They're wide, flat, and stable, so they can serve as a floating patio for less aquatic family members while providing a platform for swimming and fishing. Depending on the motor's power, size and design, pontoon boats can also be used for water sports. They can also be taken into the sea and other wave-prone waters. Their stability and safety also make them great for families with younger children.
Cabin cruiser or walkaround
If you're looking for a boat you can sleep on during a weekend trip (or longer), you should start your search with cabin cruisers or walkarounds. These boats offer more room and an enclosed space where you can sleep. Of the two, cabin cruisers are better suited to long trips because they are larger and more like mobile homes on the water.
Jetboat or bowrider
If you're looking to do water sports and ride on the water, a jet boat or bowrider (also referred to as a runabout) might be a better fit. They're smaller and don't provide the same "floating patio" experience as a pontoon boat. However, jetboats offer higher speeds than other options. Jetboats provide a bonus for safety-minded parents: there's no propeller.
Jon boat or skiff
Families looking for the best family fishing boat — especially in shallow water or smaller spaces — might consider a Jon boat, skiff, or a smaller pontoon boat. Their shallow draft makes them a poor fit for saltwater or choppy environments, but they're approachable, easy to use, and provide a good, flat space to stand or sit with your pole.
Other considerations when shopping for family boats
Budget, transportation, storage, and insurance are all things to consider. If you choose not to store the boat at a marina, you'll need a boat trailer to get it to the water and a safe place to store it. If you go the marina route, be prepared to pay a fee to keep it there.
Boat insurance isn't required everywhere, but you may want to consider it as a way to protect yourself, your passengers, and your boat. Depending on your boat insurance coverages, it can protect you not only against accidents on the water but against injuries sustained by you and your guests, and even protect the property and pets you bring with you.
Budget considerations should also include the cost of upkeep, fuel, and repairs. Think about how much you can afford to spend. The best family boat is one that provides family fun without financial stress.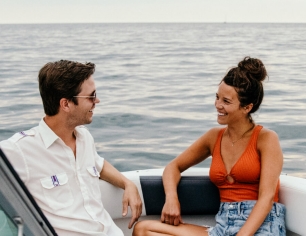 Enjoy life on the water with boat insurance from Progressive