What is a good first boat to buy?
There is a wide variety of entry-level boats, so there isn't one best beginner boat. It depends on your needs and boating goals. Consider the boat's size, feature set, cost, and layout. Essential factors include how often you plan to use the boat and whom you will bring along. New boaters should prioritize an approachable boat without complex controls or systems. Beginner boats should make it easy to start enjoying the water quickly.
4 min to read
What to consider before buying a beginner boat
Intended use
Shallow water boating, wakeboarding, cruising — what you plan to do on the water will help determine the type of boat you'll need.
Flexibility
While it's important to get a boat that will let you pursue the activities you want, new boaters should consider a versatile craft. The best beginner boats allow you to try new things and learn what you like about boating.
Number of passengers
You'll need a boat that can comfortably hold the people you expect to travel with and enough storage for the required boat safety equipment. A boat for personal use will be different from the best boat for families.
Your location
Consider where you'll store your boat and what kind of water you'll be boating on. Choppier waters usually require bigger boats with deeper drafts. And if you don't keep your boat at a marina, think about how big of a boat you want to tow each time you head out on the water.
Your budget
It's easy to get excited and overspend on a boat if you fall in love with it. Before you start shopping, set a budget you can afford. Remember to include yearly maintenance, marina fees, boat insurance, and other costs in addition to the price of the boat.
What are the different types of beginner boats?
Once you have a good idea of what you want from your beginner boat, there are many boat styles. In general, the best boats for beginners are the simplest to use while being well-suited to the activity you for which you intend to use them. Common options for good starter boats include:
Dingy
One of the simplest types of boat, dinghies are generally small craft that you can propel by oars, sails, or a small outboard motor. Depending on the style and intended use, a dinghy can be up to 20 feet long and carry a significant load of passengers or cargo. Because of the wide variety of boats classified as dinghies, new boaters can often find a dinghy that suits their goals and budget. If you later graduate to a larger boat, you can tow your dinghy with you to use as a secondary vessel.
Pontoon boats
Pontoon boats are made of a wide, flat deck on top of two or more floats that provide buoyancy. Because of their wide design with floats on either side, they are exceptionally stable and resistant to rolling. This stability can make them good boats for families, especially those with small children. Depending on the size of the boat and the number of floats, pontoon boats can be appropriate for both shallow water and the open sea. Learn more about buying a pontoon boat.
Bowriders
The classic powerboat, bowriders have a sleeker, more tapered design than deck boats like pontoons do. Bowriders don't have as much deck space for the same length, but they are more agile and usually offer a sportier ride. Many boats designed as "fish and ski" boats are bowriders. This category can offer enough space for fishing and good performance for towing water skis and other water sports equipment.
Center console
Center consoles are more complicated than other types of boats, so they aren't suitable for all beginners. However, their design allows more space for sleeping quarters and storage. If you plan to use your boat for overnight trips or long days on the water with many passengers, they can be a good choice.
Sailboat
Sailing is inherently more complicated than operating a motor-operated vessel, but only a sailboat will do if your goal is to learn to sail.
Should I buy a new or used beginner boat?
Buying a new boat is usually considerably more expensive than buying a comparable used craft. Depending on your budget and the type of beginner boat you want, used may be the way to go. However, buying new gives you a greater likelihood of your boat being free of issues and covered by a warranty. It also allows you to order what you want rather than relying on your area's used market.
If you decide to buy a used boat, be thorough in checking for issues that may need attention. Be sure to prepare yourself for the cost or work of handling necessary repairs for a used boat. Learn more about buying a boat for the first time and choosing between aluminum vs. fiberglass boats.
First-time boat owner? Get boat insurance with Progressive
Online
We'll ask easy questions about you and your boat, then you can choose coverages.
Get a boat insurance quote online
Call a rep
You'll speak with a licensed representative who will guide you through everything.
Call 1-866-749-7436
Through an agent
If you want local advice, we'll connect you with a licensed independent agent near you.
Find an agent online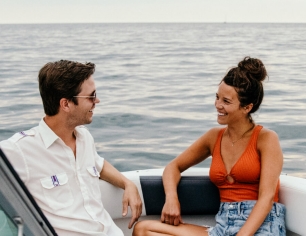 Enjoy life on the water with boat insurance from Progressive