What to know about buying a bass or fishing boat
There are a few things to consider when buying a fishing or bass boat. It's important to consider how you will use your fishing boat, fuel tank, cost, and resale value. Bass boats are less versatile than other styles, so if you're buying a fishing boat but want to do other activities too, there may be better options.
4 min to read
What is a bass boat?
A bass boat is a specialized boat designed to make freshwater fishing easier and more rewarding, especially for bass. Many of their unique features will be especially useful for competitive anglers, but anyone who fishes regularly can appreciate the bass boat's focused design.
What are the pros and cons of bass boats?
The biggest pro and con of bass boats is how specialized it is. For serious anglers, bass and fishing boats will be hard to top. Bass boats and fishing boats can also be too specialized and are not suited for people looking to experience activities, other than fishing out on the water.
Pros of bass boats
Space and comfort
Bass boats are designed to hold two people, so their size (usually 16 feet and up) allows plenty of space to move while casting in any direction. Bass boats may also have features like swiveling chairs or coolers for food making it comfortable to spend all day on the water.
Speed
Bass boats usually have a lot of horsepower for their size, making it fast and easy to get where you're going and spend more time fishing.
Technology and large live wells
Many bass boats include dedicated electronics like fish finders and large displays to make it easy to find the best spots to fish. They also contain larger live wells, which keep fish alive in the water until it's time to weigh them, allowing ample time to catch and release.
Low noise levels
Many bass boats have a secondary motor called a trolling motor that allows you to move the boat slowly and quietly, trolling lines and reducing the likelihood that you'll scare away fish.
Cons of bass boats
More expensive
Due to their powerful engines and extra features, bass boats can be more expensive.
Limited passenger capacity and use
Bass and fishing boats can't accommodate a large group or family. The focused design that makes bass boats so great for fishing may limit what else you can do with them. Learn more about how to choose the best boats for families.
Difficult to use in choppy water
Bass boats typically have low drafts and wide, flat designs. That makes them good boats for shallow water boating but difficult to take into less calm waters.
What size bass boat should I buy?
Bass boats are typically 15 to 25 feet, but some models can be smaller or larger. Consider how many people will use it regularly, how long you want to stay on the water, and where you'll go. For example, a smaller boat may be best if you typically fish alone, while trips with more anglers will require a larger craft. Wider boats make it easier to ride into the shallows and give you more room on deck.
However, they require more space on the water, potentially making it more difficult to navigate tight channels.
Other considerations for buying a fishing boat
Consider how much fuel the boat's motor can hold. A large engine and a large boat can go through fuel faster than smaller, less powerful crafts, so be sure you have a big enough fuel tank to carry you through the day. Another important consideration is the resale value of your bass boat. Bass boat technology is constantly evolving. Today's cutting-edge features may not be so advanced when it's time to sell or upgrade. If you're concerned about re-sell value, focus on the basics like boat size and engine power.
It's also important to consider the total cost of your bass boat. Set a budget before you start shopping. Remember that your total cost of a fishing boat will include a boat trailer, marina fees, operation and maintenance cost, and bass boat insurance. Make sure to check the boat insurance requirements in your state and learn more about buying a boat for the first time.
Online
We'll ask easy questions about you and your boat, then you can choose coverages.
Get a boat insurance quote online
Call a rep
You'll speak with a licensed representative who will guide you through everything.
Call 1-866-749-7436
Through an agent
If you want local advice, we'll connect you with a licensed independent agent near you.
Find an agent online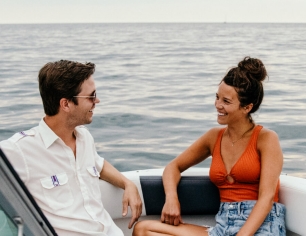 Enjoy life on the water with boat insurance from Progressive