What is full coverage motorcycle insurance?
Full coverage motorcycle insurance is a term used by some lenders, insurance agents, and motorcycle dealerships to describe policies that include both liability coverage plus comprehensive and collision coverage. However, there's no consensus on what "full coverage" entails when it comes to motorcycle insurance. No insurer offers a motorcycle policy that covers you in all situations.
4 min to read
What does full coverage motorcycle insurance cover?
"Full coverage" actually isn't a coverage type at all, but rather a term popularized by lenders referring to policies that include liability coverage as well as physical damage coverages for your bike. The term full coverage motorcycle insurance won't be used by your motorcycle insurance company, but here are the coverages that most lenders will require you to carry if you finance or lease your bike:
Liability coverage
Motorcycle liability coverage is required by law in all most states and may pay for damages or injuries you cause to other motorists while riding. Liability coverage won't pay to repair your bike.
Comprehensive coverage
Motorcycle comprehensive coverage may pay to repair or replace your motorcycle if damaged due to factors outside of your control, including theft, vandalism, dire, hitting an animal, and weather related issues.
Collision coverage
Motorcycle collision coverage can pay to repair or replace your bike due to damage resulting from a collision, regardless of fault — and even if you were the only motorist involved. Collision coverages applies if your motorcycle collides with a fence, tree, guardrail, vehicle, or any other object.
Learn more about what motorcycle insurance covers and the motorcycle insurance coverages offered at Progressive.
Is full coverage motorcycle insurance required?
Most states require you to carry liability coverage before you can legally ride your motorcycle. Lender and lease agreements typically mandate comprehensive and collision coverages — which they may refer to as "full coverage" in order to protect against damage to your motorcycle. If your lender requires comprehensive and collision, you'll need to carry both coverages even though they aren't mandated by state law. Learn more about motorcycle insurance requirements by state.
How much is full coverage motorcycle insurance?
Your price for motorcycle insurance will vary based on several components, including your location, type of bike and coverage selection. Any policy with comprehensive and collision will typically cost more than a policy that only offers the bare minimum coverage required by law. Learn more about motorcycle insurance cost.
Should I get full coverage on my motorcycle?
While there's no such thing full coverage motorcycle insurance, you should customize a motorcycle insurance policy to your situation and your bike.
Your policy's liability coverage should protect your assets in case you're liable for someone else's injuries or damages. That may mean increasing your limits of liability if your state's minimum limits don't offer enough protection.
Even if your bike is paid off and you aren't required to carry comprehensive and collision, ask yourself what you could afford to spend on a sudden expense if your bike was stolen or damaged in an accident and you had to pay for repairs out of pocket. The more valuable the motorcycle, the more you may benefit from physical damage coverages. It may not be worth paying for comprehensive and collision for bikes with a low market value.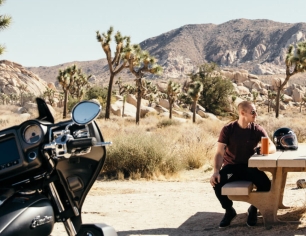 Enjoy life on two wheels with motorcycle insurance from Progressive