How to buy your first home
Whether it's your first home or your fifth, the process for buying a home is the same. You need to set a budget, secure financing, find your dream home, and make an offer. Doing your research and connecting with professionals like real estate agents and mortgage loan officers from the beginning can help ensure your first time home buying process goes smoothly.
4 min to read
Steps to buying a house for the first time
Get finances and documents in order
Before you start house hunting, you can get pre-approved for a mortgage. This initial step can save time later and help you understand your budget better. A pre-approval will also let you know how much of a down payment you'll need. Some lenders require 20%, but there are options if you haven't saved much. A mortgage loan officer can help you navigate these requirements.
Your lender will request financial records when you apply for a home loan. These can include recent pay stubs, two years of tax returns, bank statements, and a copy of your driver's license.
Start house hunting
Before you start shopping, make a list, and identify your absolute must-haves — the things you aren't willing to give up. Chances are you won't be able to find a house that has everything you want, but you should make sure it at least has everything you need.
House hunting is usually the most fun step. Check your local listings, attend open houses, and tour homes privately with a real estate agent. Ensure that you find an agent you can trust to help you look for homes within your budget.
Make an offer
Once you find the perfect house for you, the next step is to submit an offer. Depending on the local market, you'll probably have some negotiating to do with the seller before you settle on a final purchase price and terms. Usually, you'll submit a deposit, known as earnest money, with your offer to show the buyers you're serious. Learn more about making an offer on a home.
Get a home inspection and appraisal
After the house is under contract, you'll need to schedule a home inspection. You can hire a general home inspector to assess the structure, but you may want to call a specialist to look at mechanicals or any issues raised in a general inspection. You'll also need a home appraisal, but your mortgage lender will typically handle that.
Pro tip:
When budgeting for your monthly mortgage payment, be sure to account for homeowners insurance and property taxes. You usually pay these monthly to your mortgage lender and put in escrow to be paid annually. Your monthly payment might also be higher than expected if your lender requires private mortgage insurance (PMI). Charging PMI is customary if you put down less than 20% of the home's value.
Close on the home
Once you're finished with inspections and have been approved for financing, the last step is the real estate closing, where the home purchase is finalized. Before closing, you'll want to resolve any issues raised in the inspection, finalize the mortgage with your lender, get a list of closing costs, and secure homeowners insurance. At the closing, you'll sign your title transfer and mortgage documents and take possession of your new house. Learn more about closing costs.
Buying a home for the first time is exciting. It's probably the biggest purchase you'll make. Prepare yourself for buying a home by researching, connecting with experts, and getting your finances in order before you start shopping. Once you've taken these steps you'll be ready to close the deal on your first home. Learn more about first-time homebuyer mistakes and how to avoid them.
How to get homeowners insurance with Progressive
Go online
We'll ask simple questions about your property, then you can customize your coverages and start date.
Get a homeowners insurance quote
Call us
Speak with a licensed homeowners representative who can guide you through your quote.
Call 1-866-749-7436
Ask an agent
We'll connect you with a licensed independent agent near you.
Find an agent online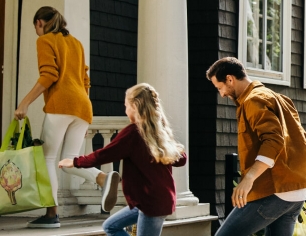 Quote homeowners insurance online or call for advice