How to prepare to buy a house
Your home is one of the largest purchases you'll ever make. The process can be stressful, but if you know how to prepare to buy a house, you can spare yourself some worry. Determine ahead of time how much you can afford, where you want to live, the kind of home you want to buy, and how you to plan to pay for it.
4 min to read
How to start preparing to buy a house
When preparing to buy a house, find out what the average cost of a home is in your neighborhood. Figure out what you need to buy a house and start saving if you don't carry sufficient funds to cover closing costs. An expected down payment is sometimes 20% of the home's value, but many people pay much less — as little as 3% in some instances. However, the more you put down, the lower your monthly payments will be. Keep in mind that if you're looking in a competitive market, a higher down payment will give you an edge. You may also want to consider saving additional money to make upgrades to your home after you buy it, such as a new paint job or new furniture.
Decide what you can afford
The next step when preparing to buy a house is deciding how much money you can spend on a home. If you're financing the home, prospective lenders may require a certain debt-to-income ratio, which means your monthly debt payments shouldn't exceed a certain percentage of your monthly earnings.
Lenders will also check your credit score to qualify you for a loan. If your credit score isn't where it needs to be, you may be able to raise your score by paying off unsecured credit card and loan balances, as well as making timely payments. You can also request copies of your report from each of the three major credit bureaus. If there's false information on your credit report, you can dispute the item and potentially raise your score. Some lenders may even offer you more than you expect, but it's essential only to purchase a home you can afford, to avoid undue financial strain as a homeowner.
Consider a real estate agent
Preparation for buying a home can involve a lot of searching, paperwork, and stress, but you can lay out your exact demands for a home to a real estate agent. A real estate agent may know about home listings that aren't available online and can help you navigate the home buying process more efficiently and find a better price. It's their job to do everything in their power to find you a home that fits your desires.
Decide if you want a fixer-upper or a new home
There are brand new homes being built — and sold — every day. Newer homes may attract a buyer who doesn't want to deal with the maintenance issues of older homes. Homes that need significant upgrades, on the other hand, might be priced more affordably. If you're handy with tools and you don't mind putting in the physical effort, a fixer-upper is one way to reduce costs. Learn more about buying a fixer upper and building vs. buying your first home.
Visit open houses
Almost every home that goes up for sale will have an open house at some point. This is an opportunity for interested buyers to walk through the space and examine it for themselves. It can give you a good idea of the views from the windows, your proximity to other neighbors, and any potential problems that may come with the home. Many homes also offer 3D walkthroughs online.
Tips for mortgage approval and buying
One step you can take to prepare to buy a home is to get pre-qualified or pre-approved for a mortgage. It shows sellers that you're serious, and a pre-approval letter is sometimes required before a real estate agent will work with you. It can also give you an advantage over someone who hasn't yet taken that step.
Consider having cash on hand for what's known as an earnest money deposit. This is the money that will accompany your offer, typically between 1% to 2% of the home's value. This money is held in escrow and shows the seller that you're committed to purchasing the home. The funds are usually applied to your closing costs or down payment. Learn about private mortgage insurance and how escrow and homeowners insurance works.
Online
Answer questions about your property and then customize your coverage to your needs.
Quote home insurance
Call a rep
Talk to a licensed representative who can answer your questions.
Call 1-866-749-7436
Through an agent
Talk to an independent agent about your options.
Find an agent online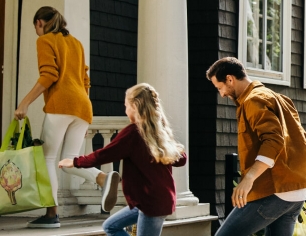 Quote homeowners insurance online or call for advice