Can you get life insurance if you're overweight?
Being overweight doesn't automatically disqualify you from getting life insurance, but it might affect your rate and the type of policy you qualify for. Weight is only one of the many factors life insurers use to determine your eligibility and risk. In many cases, if you're overweight but otherwise healthy, you'll qualify for a policy with a relatively low rate. If you have weight-related or other health complications, you may pay more for coverage.
3 min to read
Does your weight matter for life insurance?
Life insurance companies evaluate an applicant and offer a rate based on their risk, but each company calculates risk differently. Some companies may consider overweight individuals to be more likely to suffer from diseases that can shorten your life expectancy, such as diabetes, heart disease, and certain types of cancer. They may offer you a higher rate, especially if your life insurance medical exam shows that you have other health issues.
Are there life insurance weight BMI and weight limits?
Yes – depending on the insurer and policy, there may be a weight limit based on your height. And insurers often use height and weight to assess your body mass index (BMI). Insurers then typically use their own "build chart" to determine how your BMI will affect your eligibility and rate.
While any actual weight limits will vary by insurer and policy, here's a breakdown of common BMI categories according to the National Heart, Lung, and Blood Institute:
Underweight: Below 18.5
Healthy weight: 18.4–24.9
Overweight: 25.0–29.9
Obese: 30 and above
How much does BMI affect life insurance?
Life insurance build charts can be more generous than other BMI classifications, and there's no industry standard for how insurers use BMI to make application decisions and determine rates. Your BMI and weight won't be the only factor that goes into assessing your health — any questions you answer about your health and the results of your medical exam will also be factored in. If you're in overall good health, being overweight may not significantly affect your rate. Learn more about what affects life insurance costs.
Pro tip:
If you're young and you recently lost a significant amount of weight, you might decide to wait six months or longer to apply for life insurance. Insurers can look at your full health history, and if you recently lost weight, they might use your heavier weight to determine your risk. If you want coverage now, though, don't let your weight history stop you from quoting and comparing life insurance rates.
Can you be denied life insurance for being overweight?
Your application typically won't be denied solely because of your weight. But you might get denied if you have serious health complications. If that happens, consider shopping around more or applying for a guaranteed issue policy, a more expensive type of life insurance that doesn't require a medical exam or factor in your health.
What's the best life insurance for a high BMI?
Overweight individuals can often qualify for a traditional life insurance policy, so start there. If you have trouble qualifying, consider applying for a guaranteed issue policy. Be aware that these policies tend to cost more and offer lower death benefit amounts.
How to get life insurance through Progressive
Compare life insurance quotes online in just minutes. Or call 1-866-912-2477 to discuss coverage from Progressive Life by eFinancial that fits your needs.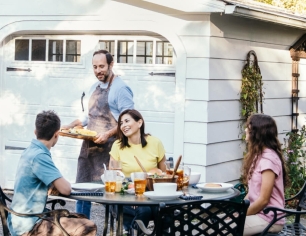 Get a free life insurance quote online in minutes