What do you do after a boating accident?
Federal law requires that you report some boating accidents to the proper authorities. Accidents that need to be reported will depend on the severity, extent of the damage, and whether there are injuries, deaths, or missing persons. Boating law enforcement agencies vary by state, so be sure to have your state agency's phone number before heading out on the water.
3 min to read
When do you need to report a boating accident?
According to federal law, you must submit a written boating accident report for accidents that meet the following criteria:
There is boat or property damage of $2,000 or more

A boat involved in the accident is destroyed

Someone sustains injuries that require medical attention

A person dies or disappears because of the accident
Failure to report an accident that meets these criteria within the allotted timeframe could result in fines and/or other penalties.
What type of report must be filed if there is an accident while boating?
If you need to file a report, check with the boating authorities in your state to find out what forms you need to complete. Most states accept the U.S. Coast Guard Recreational Boating Accident Report (Form CG-3865). However, some have their own forms and additional reporting requirements.
Boat accident reporting requirements
Follow these steps to get your information to the appropriate authorities:
Determine whether you need to submit a report.

If you need to file an accident report, the person driving the boat should complete it. If they can't, the owner of the boat should do it.

Submit the report to the state boating authority where the accident occurred. If your boat is registered in a different state, you may also need to file a report in the state where your boat is registered.

Act quickly. If a person dies within 24 hours of the accident, requires medical attention for injuries, or is missing, you must submit the report within 48 hours of the accident. Otherwise, you have up to 10 days to submit the information.
Does insurance cover boating accidents?
Having the right coverage at the time of an accident can help protect you if you're in an accident on the water. Opt for boat insurance coverage that can help you both on and off the water, including:
Liability
If you're at fault for a boating accident, boat liability coverage can help pay for injuries and damage you cause to someone else up to your policy limits. It may also cover your legal expenses and court costs if someone sues you.
Comprehensive and collision
If your boat is damaged in an accident or while in storage, boat comprehensive and collision coverage can help pay to repair it.
Uninsured/underinsured boater
If another boater hits you and doesn't have adequate coverage to pay for your injuries, UB/UIB can help cover your expenses. Keep in mind that while many states don't require owners to have boat insurance, if you're financing your purchase, your lender probably will likely require it for the duration of your loan. Learn more about boat insurance requirements by state and how boat insurance works.
Need help reporting a boating accident?
Current Progressive customers
Log into your policy or call 1-866-776-4737.
New Progressive customers
Quote boat insurance online or call 1-866-749-7436 to insure your boat.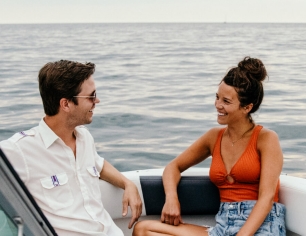 Enjoy life on the water with boat insurance from Progressive