Life insurance review tips
During a life insurance policy review, you should look at your current coverage and beneficiaries and decide if any adjustments should be made. Factors that can impact changes to your life insurance needs can include marriage, divorce, health status changes, buying or selling a house, having children, and paying off debt. It's important to review your life insurance policy annually or more frequently to ensure your policy is set up to adequately protect your loved ones after your death.
5 min to read
When should I conduct a life insurance review?
At a minimum, you should conduct an annual life insurance review. But no matter how long it's been since your last review, you should conduct one after any major life events involving changes to your family, health, or finances. Significant life events that impact your family, health, or finances can change how much life insurance coverage you need and who you want as your beneficiaries.
Changes to your family
The amount of life insurance coverage you need, and who you want as your beneficiaries, depends in part on the people who count on your income to cover their expenses. Here are some events that should be part of your life insurance policy review checklist since they can change your life insurance needs:
You get married or divorced. Changes in marital status might mean changes to who's depending on your income. It's a good time to review your beneficiaries and consider adding or removing coverage.
You have or adopt a child. Your kids rely on you for financial support. Having adequate life insurance coverage can help ensure they are taken care of financially in the event of your death. It can be complicated to name minor children as your beneficiaries, but if your spouse or partner is a beneficiary, you should consider increasing your coverage — a child will increase their potential costs if you were to pass away. Learn more about life insurance for new parents.
You're financially responsible for an aging parent or loved one. If your parents or others have become dependent on your income, make sure you have enough coverage to take care of them in case you pass away first.
Your partner stops working. Whether they quit work to stay home with the kids or take care of a sick relative, if your spouse or partner doesn't work and you're the sole breadwinner, your income becomes even more essential to replace if you were to pass away unexpectedly.
Your children don't rely on you for financial support anymore. If it's possible to decrease your coverage, consider doing so after your children are no longer dependent on you (unless you have new costs, like a new mortgage, that you want to help cover instead).
Changes in health
If you or a loved one experiences a significant improvement or decline in health, it could increase or decrease the amount of coverage you might need. As part of your life insurance policy reviews, consider the following:
Children with special needs. If your child requires lifelong special care, you may want more coverage to support them once you're gone.
Serious medical conditions. If you or your partner has high healthcare costs that you're currently paying for, the healthier partner might want to increase your coverage to help cover the medical bills in case you pass away. It may be more expensive and difficult for the less healthy partner to increase their coverage.
Changes to your finances
Your life insurance policy's death benefit can help your loved ones cover outstanding debt and living expenses after you're gone. Review your insurance when:
You change jobs or get a promotion. If your income has increased significantly, you may want to increase your coverage so your family can maintain their current standard of living after your death.
You take out a new loan. If you recently financed a new car or house, review your life insurance to make sure the death benefit is large enough to cover paying off any new debts you share with your loved ones.
You pay off your house, car, or other debt. If you significantly reduce the amount of debt you owe, you may need less coverage.
You have a financial windfall. If you receive an inheritance or significant income increase that can help supplement your dependents' income if you die, you might not need as much coverage.
Reviewing your life insurance: What to look for
You can review your life insurance by checking the hard copy of your policy, logging into your online account with the insurer, or talking directly with an agent. Check to see how much coverage you have, if those limits are still adequate based on your current situation, and if you want to change your beneficiaries. You might also consider activating any life insurance riders relevant to your current situation.
How to get life insurance
Online
You'll be asked questions, and then you'll choose your coverage amount and more.
Get a life insurance quote
Call a rep
A licensed representative from Progressive Life by eFinancial will talk you through your options.
Call 1-866-912-2477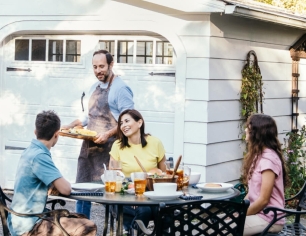 Get a free life insurance quote online in minutes