Alaska homeowners insurance
It's known as the Last Frontier — the largest state in America and bigger than the next three largest states combined. Progressive is proud to support Alaska homeowners by protecting their property and belongings with affordable, customizable home insurance. Check out our Alaska home insurance coverages, cost information, and potential discounts for homeowners.
3 min to read
How you're covered
Alaska doesn't require homeowners insurance by law, but if you finance your home, your lender may require you to have a homeowners insurance policy in place. Your policy's coverages are designed to safeguard your property and assets. A typical policy will include the following:
Dwelling coverage protects your home's structure (roof, walls, etc.) as well as attached structures, like a porch.
Other structures coverage protects detached structures, such as a fence or shed.
Personal property coverage protects your personal belongings, including furniture, clothing, and electronics. Certain items, like jewelry, art, and collectibles, are often only covered up to a specific limit so you may want to purchase an endorsement to schedule these items on your policy at the coverage amount needed, also known as "adding a rider."
Personal liability coverage protects you financially if you're legally responsible for another person's injuries or damage to their property.
Medical payments to others pays for medical expenses due to a covered occurrence.
Loss of use coverage helps cover costs associated with an increase in living expenses, up to your policy's limit, if you're unable to stay in your home while it's being repaired or rebuilt due to a covered loss.
Keep in mind coverage under your policy is subject to exclusions and conditions within your policy. It is important to read your policy to understand the coverage provided.
Learn more about homeowners insurance coverages.
Common claims in Alaska
Depending on where in Alaska you live, a variety of natural disasters can become sources of major damage to your home, from extremely cold temperatures in the winter to wildfires in the summer. Flooding and earthquakes are also possibilities. Your home insurance policy may cover damage to your home's structure and belongings caused by covered perils up to your policy's limits. You may need to add on optional coverage or purchase a standalone policy to get coverage for certain perils like earthquakes. Learn more about how homeowners insurance may cover earthquake damage and wildfire damage.
Find out how home insurance may cover damage caused by severe weather.
With the largest coastline in the U.S., significant rainfall, and the melting of so much snow, Alaska homes can experience flooding issues. A flood insurance policy may protect your property and belongings against flood damage.
Helping you save
Progressive offers several discounts to help you save on homeowners insurance policies. Some of the most common discounts include:
Alarm System
Multi-policy
Quote in Advance
New Purchase
See more about the home insurance discounts we offer.
Pro tip:
Compare rates and coverages from multiple companies with Progressive's Home Quote Explorer® tool, and make it easy to find the right Alaska home insurance policy for you.
How much is homeowners insurance in Alaska?
Your cost for Alaska homeowners insurance varies based on many components, including your location, type of home, and coverage limits. Learn more about factors affecting home insurance pricing.
Are you looking to rent out a home you've purchased in Alaska?
If you own a rental property in Alaska, make sure it's protected with the right type of insurance policy. Learn more about landlord policies and insurance for vacation or vacant homes.
Fast facts about homes in Alaska
These days, you'll only see igloos being used in Alaska for emergencies, in cultural centers, or as specialty tourist attractions.

To keep warm, Alaskan homes must often depend on multiple heating methods, such as a traditional heating system and a wood-burning stove.

Second Star, a mansion referred to as the crown jewel of Alaskan real estate, takes its inspiration from "Peter Pan" and overlooks Kachemak Bay. It sleeps 30, packing eight bedrooms and 12 bathrooms into 17,000 square feet of dramatic splendor.
Get a homeowners insurance quote for your Alaska home
Go online
We'll ask simple questions about your property, then you can customize your coverages and start date.
Get a homeowners insurance quote
Call us
Speak with a licensed homeowners representative who can guide you through your quote.
Call 1-866-749-7436
Ask an agent
We'll connect you with a licensed independent agent near you.
Find an Alaska agent online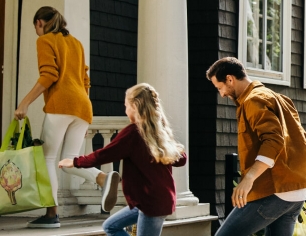 Quote homeowners insurance online or call for advice