Alaska Car Insurance
Alaska's 125-mile Seward Highway, running from Anchorage to Seward, is just one of many scenic drives the state has to offer. Before you set off on a long drive through the Kenai Peninsula, make sure you have the right protection for you and your car. Learn more about auto insurance in Alaska, including available coverages and state requirements, and find ways to save in the Last Frontier.
3 min to read
What are Alaska's car insurance requirements?
Alaska's minimum car insurance requirements include liability coverage limits of at least:
$50,000 in bodily injury liability
$100,000 in total bodily injury per accident
$25,000 in property damage liability
These are just the minimum liability coverage limits that Alaska drivers must have. If you really want to cover your assets, you should increase your liability limits, or obtain umbrella insurance, rather than purchase other car insurance coverages.
Learn more about auto liability insurance.
Consider comprehensive and collision coverage
Most lenders require comprehensive coverage and collision coverage if you're financing or leasing your vehicle. But even if you own your vehicle outright, these coverages may be worth adding to your policy. If your car is stolen or damaged in a collision or other covered event, these coverages will help pay to repair or replace your vehicle.
Our Name Your Price® Tool puts you in the driver's seat. Tell us how much you'd like to spend on car insurance, and we'll show you coverage options in that range.
How much is car insurance in Alaska?
Rates for auto insurance vary based on several factors, including the limits and coverages you choose, your driving history, and ZIP code. Learn more about what goes into the cost of car insurance.
What discounts can I earn to lower the cost of my car insurance?
Progressive offers many different discounts to help you save on Alaska auto insurance, such as:
Multi-policy
Homeowner
Paid in full
Continuous insurance
Multi-car
Online quote
Advance quote
Paperless
See all auto insurance discounts.
Pro tip:
Progressive's Snapshot® program personalizes your rate based on your driving habits. The safer you drive, the more you'll save. See more on Snapshot.
Interesting facts about driving in Alaska
Keep your headlights on in the Land of the Midnight Sun. Motorists in Alaska are required to use headlights on certain state highways where signs are posted requiring the use of headlights to help avoid head-on collisions, and police advise drivers to use them no matter where or when they hit the road.

There are 15,718 miles of public roads in Alaska, but only 31% of those roads are paved. Rough terrain means drivers need to drive defensively and be prepared for accidents or damage on the road. Always travel with a spare tire and emergency supplies and consider adding comprehensive coverage to your auto policy.
How to get car insurance in Alaska
Go online
Customize your policy's coverages, limits, and deductibles.
Quote auto insurance
Call us
Talk to a licensed representative who will guide you through every step of the process.
Call 1-866-749-7436
Ask an agent
Get expert advice from an independent agent near you.
Find an agent in Alaska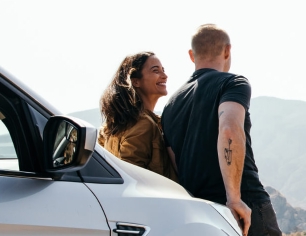 Quote car insurance online or give us a call