How to buy a condo
In many ways, buying a condo is just like buying a house – you set a budget, a realtor shows you potential properties, and you make an offer on the most attractive option for your lifestyle. However, condominiums feature shared walls, roofs, and other housing elements, making them less attractive to some buyers and more attractive to others.
3 min to read
How does buying a condo work?
Condominiums are single units within a shared structure and area with shared amenities. Many condos feature Homeowners Association (HOA) fees on top of your monthly mortgage and insurance premium, so it's important for first-time condo buyers to consider this when you set your budget – the price you would be comfortable paying for a mortgage each month. Your budget will also need to include these fees and sometimes they can equate to hundreds of dollars on top of your monthly mortgage payment.
So what's the perk to buying a condo over a single-family residence? A condo is all about trade-offs – shared walls and living areas mean less individual upkeep for owners. And depending on the cost of your monthly HOA fees, you may receive services like landscaping, trash and snow removal, and security. Many condos also feature shared amenities, such as pools, tennis courts, and gyms. And, of course, condos are a popular choice for someone looking in high-price markets where they may otherwise be shut out of owning property, such as New York City, Florida, California, and Hawaii.
Pro tip:
Condos are a great way to enter the real estate market. Condo prices can sometimes be lower than stand-alone single-family houses, making them more accessible for many first-time homebuyers.
Steps to buying a condo
Ready to start the condo-buying process? Here are a few tips for buying a condo:
Get everything in order

You'll first want to figure out how much you can afford, then get pre-approved for a mortgage. Having a loan pre-approval before you start looking is imperative to put in a timely offer. Good properties tend to sell quickly and having your finances in order before you start looking can keep you competitive in a quick-to-sell market.

Make connections

Then you'll want to look for a realtor who knows the ins and outs of how to buy a condo for the first time. A good realtor can help find properties before they hit the market, giving you a VIP pass to a showing. While you're there, consider talking to someone on the condo's HOA or a building resident to get a good feel for what it's like to live in the building. Even a quick chat while you're touring the building can give you a sense of what to expect while living there. By chatting with a potential neighbor, you'll get an idea what the community is like.

Put in an offer

Once you've found a property that ticks all (or most!) of the boxes on your condo buying checklist, it's time to put in an offer. Your realtor can help you negotiate and put an offer letter together that encompasses all the terms of the sale. Learn more about how to make an offer on a house or condo.

Get a condo inspection

If the seller accepts your offer, you're not done yet. It's wise to get a condo or home inspection just to be sure everything is in working order. If the inspector finds anything amiss, you can withdraw your offer or work with the seller to resolve issues before you complete the sale.

Seal the deal

Once you're happy with the results of the home inspection, you can finally sign on the dotted line. Closing on your property will typically take a few weeks as you'll need to finalize the mortgage with your lender, determine your closing costs, and get condo insurance. Once that's all completed, you'll receive your title transfer, sign on the dotted line, and you're officially a condo owner.
Online
Customize your coverages and start date when you quote online.
Get a condo insurance quote
Call us
Talk to a licensed representative who can help you quote condo insurance.
Call 1-866-749-7436
Through an agent
Connect with a licensed independent agent in your area.
Find an agent online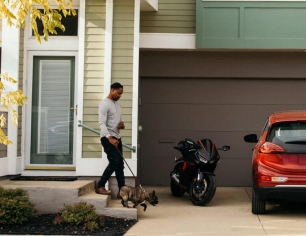 Get a condo insurance quote online or call for advice