What are the steps for buying used cars online?
Buying a used car online isn't that different from buying through a dealership in person. You should make sure you have a budget in mind, have cash or financing lined up, as well as an idea of how much the vehicle is worth to ensure you're getting a good deal.
5 min to read
How to buy a used car online
Determine your budget
The first step in any car-buying process — whether buying a used car online or searching for a new car — is knowing your budget and sticking to it. Walking into any car-buying situation with a firm budget will help quickly narrow down your options and keep the car buying process simple. Our car loan calculator and other car buying resources can help you find a budget that works for you.
Have a plan for financing
How will you pay for the car? If you plan to pay cash, it needs to be immediately accessible. But if you plan to finance the vehicle, you can get financing from a third party or explore the options from the online used car-buying site you ultimately select.
With your budget in mind, if you're financing, you'll want to find the best interest rate available. Often, starting with your bank is a solid first step. Find out what interest rate they offer, and then you can shop that against other banks in your area, the site you're looking to purchase from, or other online lenders.
Find your vehicle — where can you buy used cars online?
Here's where your search starts to gain traction. There are many different sites and online platforms available for buying a used car online, including:
CarMax
Carvana
Shift
TRED
Auto Trader
eBay Motors
Vroom
Likewise, many local dealerships have started offering online car-buying options — both for new and used cars — to compete with online rivals, so you may have options closer to home as well.
Keep in mind that if a site or dealership is selling a car, you'll want photos of the actual car, not just stock photos. Also, make sure they supply the VIN so you know the vehicle is in stock. If you choose a local retailer with an online option, you're still free to walk the lot and look — or even go for a test drive — without face-to-face negotiations. If a test drive isn't available, you may still get an in-car feel with a virtual test drive of a similar make or model or a 360-degree view of the car.
HOW TO SAFELY BUY A USED CAR ONLINE
Buying a used car from an established online retailer or reputable local dealership can help you avoid scams. If you're buying from a private seller or unfamiliar dealership, you should always call the seller over the phone to confirm the details of the deal and to verify where the car is. Additionally, you should only use check or credit card for the purchase. Never use a wire transfer as there is no way to get your money back if the sale turns out to be fraudulent.
Know the value
Use online resources such as Kelley Blue Book to understand the value of the car you're looking at. This helps ensure you're not paying too much. Many sites will offer AutoCheck or CarFax history reports on the vehicle, which could bump up or down the car's value.
Finalize the price and negotiate a deal
Depending on the route you choose, your online used car buying site might have a set price that isn't open for wiggle room, or you might want to choose a more traditional site that allows for negotiations.
For fixed prices
If you're working with a fixed price, check it against the value of the vehicle and your budget. Then you should see what else is included in the purchase price, including benefits like auto warranties or a money-back guarantee, as well as any additional fees. You'll at least need to pay taxes, title, and registration fees when you buy the vehicle.
For negotiated prices
If you're working with a traditional dealership online, negotiating via email may prove less intimidating. Negotiating online can give you the upper hand in timing the dialogue. It also allows you to negotiate a price with multiple parties at one time and takes some of the pressure off. Just make sure to get everything in writing — including all fees.
As you negotiate, you might consider asking for a grace period to take a used car to a trusted mechanic who can check under the hood and give you additional information you may not have otherwise received about the car's current state.
PRO TIP:
If a certain type of car is highly sought after in your region and fewer of them are for sale, the fair market price may be higher than in other regions where the car isn't as popular.
What about a trade-in when buying a used car online?
It's common for online used car selling sites to buy trade-ins, so shop your vehicle with Progressive's car shopping service and see if you're getting a fair deal. Checking online for the value of your car when you're researching your next car will save a little time — and give you a clear picture of the real financial impact.
How to buy a used car online and have it delivered
Many online used car buying sites offer delivery of your vehicle to your driveway with document signing online, while some have locations where you can pick up your vehicle. Local dealerships may also offer home delivery and have you sign at that time.
If you opt for home delivery, make sure to choose a date where you'll be home so you can inspect the vehicle before taking delivery. You should check the car for dents, body panel gaps, or discolored paint as these are signs that the vehicle was in an accident. Additionally, you should look under the hood for fluid leaks around the engine block and do a quick oil check to make sure it isn't murky.
Learn more about what to look for when buying a used car.
Test drive the car & have it inspected
The company you purchase from may offer a grace period for test driving the new vehicle, no strings attached. You may be able to test drive the car for a couple days or even a week before you decide to keep it or return it. You should use this time to have the car inspected by a mechanic to make sure there aren't any deal breakers lurking under the hood.
Learn more about buying cars online.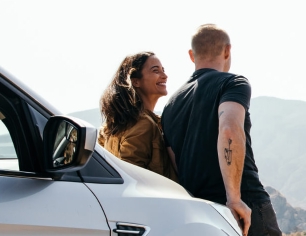 Quote car insurance online or give us a call