Is there such thing as motorcycle "tip over protection"?
While there's no such thing as "tip over protection" for a dropped motorcycle, if your parked motorcycle is knocked over – by another vehicle, a person, or even high winds – the damage may be covered. If you don't know how the bike was knocked over, you may be able to submit a claim under your collision or comprehensive coverage. If you can prove another person caused the motorcycle tip over, their personal liability coverage may pay for the damage.
3 min to read
How to handle dropped motorcycle damage
One piece of advice applies to every situation with a dropped motorcycle: Take pictures of the bike and the ground around it before setting it upright again. Then, take pictures of the ground space where the bike was and the side of the bike that had been on the ground. You'll need those photos if you decide to submit an insurance claim.
What kind of claim can I file for motorcycle tip over damage?
The kind of insurance claim you make depends on how the motorcycle tip over was caused and whether you saw it happen.
You didn't see your motorcycle tip over
If you didn't witness the motorcycle tip over, take as many photos as possible, and tell your motorcycle insurer only what you know. Don't make any guesses about how the incident happened. If you intend to submit a claim, an adjuster will examine the bike and attempt to determine the cause of damage.
If the adjuster determines that another vehicle is responsible for the damage, you'd then submit a claim under your motorcycle collision coverage. Otherwise, you'd submit a claim under your comprehensive coverage. Whether you file a collision or a comprehensive claim, you'll want to consider your deductible and whether it would be cost effective for you to submit a claim versus paying for the repair out of pocket.
You saw it happen and no person was involved
If your parked motorcycle was tipped over by heavy winds or knocked over by a falling tree, for example, you'd submit a claim through your motorcycle comprehensive coverage. Comprehensive coverage applies to covered perils outside your control with the exception of collision with another vehicle.
You saw it happen because it was hit with a vehicle
Before you start taking pictures, call the police. You may need to file an accident report, and a police presence may help keep things calm between you and the person who knocked your bike over. Be sure to get the person's insurance information who tipped your bike over – the liability portion of their auto insurance may cover the damage to your motorcycle.
You saw it happen, but it was not hit by a vehicle
Whether accidentally or intentionally, sometimes motorcycles get knocked over. Again, you'll want to call the police and take pictures while you're waiting for them to arrive.
A few possible scenarios could unfold in this situation. If the person has homeowners insurance or renters insurance, the personal liability coverage in their policy may cover your claim. They may also agree to pay for the damage out of pocket. If they won't, and you're able to identify the person, you may be able to file a lawsuit against them. If you're unable to get their personal information, you may still be able to submit a claim under your comprehensive coverage.
Is there any reason not to file a motorcycle tip over claim?
If you're filing a claim through your comprehensive coverage, you need to consider whether the cost to repair your motorcycle is more or less than your deductible.
Online
Answer easy questions, choose your coverages, and get the protection you need.
Get a motorcycle insurance quote
Call a rep
Speak with a licensed representative who will help you through the entire process.
Call 1-866-749-7436
Through an agent
Get expert advice from a licensed independent agent near you.
Find an agent online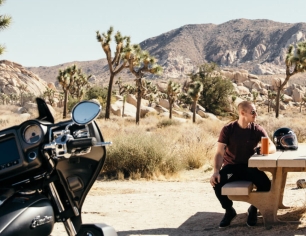 Enjoy life on two wheels with motorcycle insurance from Progressive