Nissan car insurance
Find out how car insurance for a Nissan® works, including how much insurance might cost for your Nissan and which types of coverage to consider. As a popular brand in the U.S. known for both its speed and environmental innovations, your Nissan deserves the right protection.
3 min to read
How much does car insurance for a Nissan cost?
Your Nissan's car insurance cost will depend on factors like the model you have, how you plan to use your Nissan, your location, your driving record, your age, and more. As one of the cheapest cars on the market in 2023 (according to U.S. News and World Report), the Nissan Versa may be fairly affordable to insure, especially considering its safety features — cars with better safety ratings may be in fewer accidents and qualify for more insurance discounts.
But there are plenty of other car insurance rate factors besides a car's cost and features. Get a car insurance quote today for an estimate that factors in your unique details.
Pro tip:
Your car's characteristics can have a different effect on your rate based on the coverages you have. For example, the value of your car may affect your rate more if you carry comprehensive and collision coverages, since those cover damages to your vehicle.
How can I lower my Nissan car insurance rate?
Nissan owners may be able to shop around for car insurance to get a cheaper car insurance premium. And easy discounts like signing online* or going paperless can lower your cost.† Find out all the ways you can save with Progressive by exploring our car insurance discounts.
Learn more about how to lower your car insurance rate.
What type of car insurance do you need for your Nissan?
Each state has a minimum required car insurance amount, regardless of the type of car you drive. Depending on your state, you'll likely need at least liability insurance. You may also be required to get:
Consider adding optional comprehensive and collision to cover your Nissan if it's in an accident or if you experience an event that's outside your control. These coverages are typically required by the lender if you have a loan or lease on the car.
Learn more about the types of car insurance coverage.
What are the most popular Nissan car models?
The Nissan Rogue is Nissan's best-selling vehicle in the U.S., as of the Japanese automaker's 2022 U.S. sales report. The SUV comes in five packages ranging from S (standard) to Platinum. All versions allow you to select four-wheel drive or all-wheel drive. There's also a Rogue Sport.
Nissan models include:
SUVs and crossovers: Kicks, Rogue, Murano, Pathfinder, ARIYA, Armada
Sedans: Versa, Sentra, Altima, LEAF, Maxima
Trucks: Frontier, Titan
The Nissan ARIYA and LEAF are all-electric vehicles — learn about insurance for electric cars. Some of Nissan's 2022 sedans and SUVs qualified as IIHS-HLDI's Top Safety Picks. Consider one of these top-rated options if you're buying a new car or shopping for a used car.
Fast facts about Nissan cars
Nissan was the first mass producer of Japanese vehicles, the first mass-produced module being the Datsun Type 15 in 1937.

A prominent pioneer in the electric vehicle space, Nissan received its first environmental award in 1991. In 1997, Nissan was named "Best of the Best" by the EPA.

Nissan's GT-R supercar has set speed and acceleration world records, and it's featured in the Fast & Furious movie franchise and the Gran Turismo racing video game.
How to get a car insurance quote for your Nissan
Go online
We ask easy questions, and you customize your coverages.
Get a car insurance quote
Call a rep
Talk with a licensed representative who can guide you through the process.
Call 1-866-749-7436
Through an agent
Connect with an independent agent in your area.
Find an agent online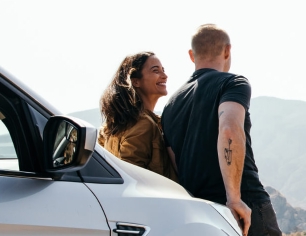 Quote car insurance online or give us a call