Homeowners insurance in Washington State
Whether it's for houses with a view of Mount Rainier or homes in the savannah-like plains of the Eastern Evergreen State, Progressive provides home insurance to Washington residents. If you're a Washington homeowner or planning to buy a home in Washington, check our coverages, discounts, and cost information for Progressive home insurance.
3 min to read
How you're covered
Washington doesn't require homeowners insurance by law, but if you finance your home, your lender may require you to have a homeowners insurance policy in place. Your policy's coverages are designed to safeguard your property and assets. A typical policy will include the following:
Dwelling coverage protects your home's structure (roof, walls, etc.) as well as attached structures, like a porch.
Other structures coverage protects detached structures, such as a fence or shed.
Personal property coverage protects your personal belongings, including furniture, clothing, and electronics. Certain items, like jewelry, art, and collectibles, are often only covered up to a specific limit so you may want to purchase an endorsement to schedule these items on your policy at the coverage amount needed, also known as "adding a rider."
Personal liability coverage protects you financially if you're legally responsible for another person's injuries or damage to their property.
Medical payments to others pays for medical expenses due to a covered occurrence.
Loss of use coverage helps cover costs associated with an increase in living expenses, up to your policy's limit, if you're unable to stay in your home while it's being repaired or rebuilt due to a covered loss.
Keep in mind coverage under your policy is subject to exclusions and conditions within your policy. It is important to read your policy to understand the coverage provided.
Common claims in Washington
Washington's unique ecosystem, along with the Pacific Northwest's windstorms known as Big Blows, can cause damage to homes and structures. Depending on your policy, your home insurance may cover damage to your home's structure and belongings caused by tornadoes and high winds up to your policy's limits, minus any deductible.
Learn more about how home insurance may cover damage caused by severe weather.
Due to Washington's long coastline and large flood plains, flooding can be a major concern, and even more so if you live near the Puget Sound or the Columbia River. A flood insurance policy may protect your property and belongings against flood damage.
Helping you save
Progressive offers several discounts to help you save on homeowners insurance policies. Some of the most common discounts include:
Alarm System
Multi-policy
Quote in Advance
New Purchase
See more about the home insurance discounts we offer.
How much is homeowners insurance in Washington State?
Your cost for Washington homeowners insurance varies based on many components, including your location, type of home, and coverage limits. Learn more about factors affecting home insurance pricing.
Are you looking to rent out a home you've purchased in Washington?
If you rent out a property you own in Washington State, make sure it's protected with the right type of insurance policy. Learn more about landlord policies and insurance for vacation or vacant homes.
Fast facts about Washington State homes and residents
The Thornewood Castle has more than 27,000 square feet of living space and massive gardens on the property.

The E.J. Roberts Mansion in Spokane, now an inn and event venue, was home to a civil engineer of the same name who built the longest expanse of railroad in the shortest time of anyone in the U.S.
Get a homeowners insurance quote for your Washington home
Go online
We'll ask simple questions about your property, then you can customize your coverages and start date.
Get a homeowners insurance quote
Call us
Speak with a licensed homeowners representative who can guide you through your quote.
Call 1-866-749-7436
Ask an agent
We'll connect you with a licensed independent agent near you.
Find a Washington agent online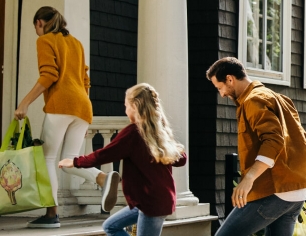 Quote homeowners insurance online or call for advice