Why is car insurance required?
By requiring car insurance in almost every state, U.S. car insurance laws help protect individuals involved in accidents that aren't their fault. These laws attempt to ensure that every driver who could potentially cause an accident has insurance to cover a minimum level of costs for any injury and damage. In this way, state-mandated car insurance ensures drivers can be accountable for the risk that comes with driving a vehicle.
2 min to read
Is car insurance mandatory in all states?
Forty-eight states require drivers to carry some level of liability coverage in order to get behind the wheel.
New Hampshire doesn't require the average driver to carry insurance, although they do have minimum requirements for those who choose to purchase insurance. If you don't carry car insurance in New Hampshire, you're still required by law to show proof of financial responsibility if you're liable for someone's injuries or damages in an auto accident. Note that if you've had prior vehicle-related infractions, New Hampshire may require you to carry auto insurance.
Virginia has minimum insurance requirements similar to other states but allows a driver to pay a $500 fee to opt out of these requirements and become an uninsured driver.
Individual states regulate the type and amount of car insurance required. Generally, those requirements include auto liability coverage for bodily injury and property damage. Liability coverage may pay for the damages and injuries you cause to others due to an auto accident. Learn more about car insurance requirements by state.
Since each state sets different rules for car insurance, other types of mandatory car insurance requirements may include:
Do lenders require additional car insurance?
Auto lenders and lease companies typically require you to carry car insurance on a car you're purchasing or leasing from them to protect their financial interest in the vehicle. Read your lending or leasing agreement carefully, as state-required minimums don't always match the minimums mandated by the bank or dealer in a lender or leasing scenario. It's common for these agreements to require additional coverage on a vehicle to fully cover the vehicle's owner in case of a total loss.
How to get car insurance
Go online
Customize your policy's coverages, limits, and deductibles.
Quote car insurance online
Call us
Talk to a licensed representative who will guide you through every step of the process.
Call 1-866-749-7436
Ask an agent
Get expert advice from an independent agent near you.
Find an agent online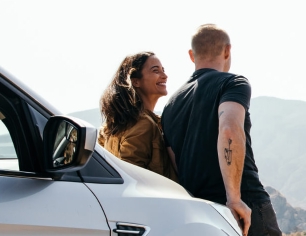 Quote car insurance online or give us a call