Disability car insurance: Is your wheelchair or adapted vehicle covered?
You can insure your accessible or wheelchair-adapted vehicle like other cars, but you may need to disclose the modifications to your insurer to help make sure they're covered. Thanks to protections offered in the Americans with Disabilities Act (ADA), drivers and car owners with accessible vehicles have a right to auto insurance at a fair rate. While certain conditions may change your insurance risk (and therefore your premium), companies can't inflate your premium solely because of your disability status.
4 min to read
What effect does my disability have on my car insurance coverage?
A disabled or handicapped status can't, by itself, increase your car insurance rate. Similarly, insurance companies cannot deny you insurance because of your disability. However, certain conditions or symptoms can increase your risk on the road, and getting in any accident has the potential to raise your insurance rate.
It's essential to be honest about any known conditions when applying for or renewing your driver's license. Deliberately withholding information that affects your driving abilities could have legal implications if you get in an accident.
What do I need to tell the insurance company?
You don't have to tell your insurance company about your condition, but you can choose to. A frank discussion about the adaptive technologies you use may be the best way to make sure you get the coverage you need. While specific information about your condition doesn't have to be disclosed, special considerations for driving due to a medical diagnosis, such as limitations on driving at night, should be noted on your license and available to the insurance company.
Even if you don't disclose your condition to your insurer, you should tell them about any vehicle modifications and adaptive features. If you don't, the modifications might not be covered.
Giving the insurance company the full picture of your vehicle is the best way to get car insurance coverage for your disability-accessible vehicle. What's more, misrepresenting facts on your application — like hiding details about your vehicle — to get a lower premium is considered car insurance fraud, a serious crime.
Car insurance for wheelchair adapted vehicles
Car insurance for wheelchair-adapted vehicles and other accessible vehicles can be obtained through a standard car insurance policy. Note that insurance rates are based partly on the driver (their age, location, driving history, etc.) and partly on the vehicle. Cars that cost more to repair or replace (typically cars that are more expensive) may have a higher insurance premium to account for the potential cost of fixing them after an accident. Adaptive vehicles are usually more expensive because of their special car modifications, so your insurance rate might be higher.
Learn more about car insurance cost factors.
Do I need special car insurance coverages because of my disability?
There are no additional required coverages if you live with a disability, but some optional coverages may be beneficial. For example, roadside assistance may be particularly helpful if you have limited mobility. And you may want to increase your coverage limits to make sure you and your vehicle are better protected in the case of an accident:
Collision coverage and comprehensive coverage are optional and pay for damage to your own vehicle in case of an accident. The cost of a new vehicle with adaptive equipment can be as high as $80,000, according to NHTSA. Adding comprehensive and collision can help make sure you can afford to repair or replace your valuable accessible vehicle in case it's damaged and not covered by another party's liability coverage.
Custom parts and equipment (CPE) coverage protects aftermarket vehicle modifications. Carrying CPE may help your auto insurance pay for hand controls or other adaptations that have been made to the vehicle.
Personal injury protection or medical payments coverage pay for your medical bills after an accident and are required in some states (and optional in others). Find out which coverage is available in your state and consider adding it, especially if you might need more extensive or costly treatment after a crash. Learn more about car insurance requirements by state.
Each driver and accessible vehicle is different, so discuss your needs with your insurer to find the best car insurance coverages for you. Ask about options like rental car reimbursement coverage — insurers may have special coverage for mobility vehicles while your car is being repaired after a covered incident. And find out whether your coverage will extend to property in the vehicle like scooters or other medical devices that aren't part of the car itself.
Your insurer can also help you identify which car insurance discounts you might qualify for. Plus, you can look into usage-based car insurance, which rewards careful drivers.
How to get car insurance with Progressive
Go online
We ask easy questions, and you customize your coverages.
Get a car insurance quote
Call a rep
Talk with a licensed representative who can guide you through the process.
Call 1-866-749-7436
Through an agent
Connect with an independent agent in your area.
Find an agent online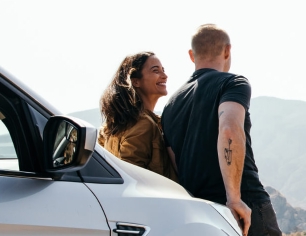 Quote car insurance online or give us a call