How to sell a car online
To sell your car online, first, decide if you want to sell it to a private party or a dealer. Then prepare your car to perform well in an online listing, prepare to safely meet online buyers in person, and know how to make your final decision.
5 min to read
Selling your car online: Private party sales
Just like with in-person car selling, you're likely to get more money by selling to an individual rather than a dealership. But you'll have to put in more time and effort to prepare your car, list it, meet with buyers, and finalize the sale.
Preparing the car for an online listing
Take everything out of the car. Remove everything from the car except your registration and proof of insurance, which you'll need in the car to conduct test drives with potential buyers.

Get the car checked by a mechanic. Getting a mechanic to inspect the car can help identify any safety concerns or necessary repairs to improve your chances of selling the car for a reasonable price. If there are unresolved issues with the car, be prepared to disclose them in your listing. Use the mechanic's assessment of the car's condition to get an accurate value from a valuation service like Kelley Blue Book. You can also request a written report of the car's condition to show potential buyers.

Get the car cleaned inside and out. You might consider doing this yourself, but some things — such as shampooing the upholstery — can be challenging to do at home. Photos of an immaculate car can make it easier to attract online buyers, and it may even get you a better offer.

Assess any outstanding loan payments. If you still owe money on the car, consider paying off the loan balance, if you're financially able. This will allow you to get the car titled in your name only, making it easier to transfer the title. Plus, many buyers prefer a clean title to one with a lien on it.

Get a copy of the vehicle history report. Many sites will sell you a motor vehicle record for a small fee. A verified history of your car can reassure buyers and make it easier to sell your car online.
Identifying the market for the car you're selling
The used car market has ups and downs. Some are unexpected, like production shortages that increase demand for used cars. Still, many market fluctuations result from the audience's seasonal interest. Learn more about the used car market.
Identifying who would be interested in the car you're selling online and what's appealing about it can make it easier to write an effective listing. It can also help you identify the right time to sell your car. Waiting for the right moment can be a powerful negotiating tool if you're not in a hurry. For instance, if your car would appeal to college students, advertising it just before the school year begins might help you sell it quickly for a good price.
Making the listing
Once you've identified the likely market for your used car, craft a listing that highlights the car's appeal. For example, if you're advertising a family vehicle, you might list the car's safety features. You can include pictures of the car seat attachments. No matter who your target audience is, include plenty of well-lit, clear photos of the cleaned car (both exterior and interior). Include shots of any special features, upgrades, or unique selling points of the car.
After you've created the listing, choose an advertising platform, following these safety precautions for selling a car. If you're selling a classic car, RV, or another specific-use vehicle, find a site that caters to specialized buyers. Most local newspapers offer online listings, too, which can help you find buyers in your area.
Meeting with buyers
Before you meet with potential online buyers, vet them by asking how they'll pay for the car, when they'd like to do a test drive, and if they have any questions about the car. Don't proceed with the sale if someone is unwilling to meet in person or in a public place — that could be a red flag for a scam.
Prioritize buyers who can pay with a secure, verified payment like a cashier's check. Personal checks are riskier for the seller, so only accept them if the buyer is willing to wait until the check clears to transfer the car's title.
Making the sale
Once a buyer commits to purchasing your car, draft what's called a "bill of sale" that contains the vehicle's identifying details, the price, the date you'll transfer the car to them, and the method they'll be using to pay. This will be similar to the car documents typically signed at a dealer.
The price will probably involve some negotiating, so give yourself guidelines before you start:
What's the least you're willing to accept?
How much do you owe if you still have a loan for the car?
What is the amount you hope to get?
As you answer these questions, keep the car's current market value in mind. Are you willing to walk away from the buyer if they won't give you what the car is worth? It might be worth waiting, especially if you have other prospective buyers. Learn more about the documents you need to finance a car.
Selling your car online: Alternatives to private party sales
If you want to sell your car online but don't want to deal with the effort required for private party sales, consider using a service like Progressive's Sell Your Car service powered by TrueCar. In minutes, you can receive a real-time cash value estimate online and get connected to local certified dealers interested in buying your car.
You'll need to answer a few questions online to see how factors like your car's mileage, color, and options affect its value. Once you receive your offer, you'll be introduced to local dealers. All you have to do is visit one of the participating certified dealers who will verify your information and buy your vehicle. You may even have the option to trade in your vehicle and buy a new car that you've found online.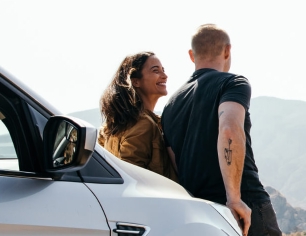 Quote car insurance online or give us a call