What are the best cars for college students?
These cars in recent model years may make some of the safest used cars for college students: the Acura Integra, Honda Civic, Mazda 3, Toyota Camry and Corolla, and Subaru Outback. These models have consistently made IIHS-HLDI's Top Safety Picks for small and midsize cars in the past few years. Whether you're commuting or living on campus, consider your current and future transportation needs. Before you buy, find out if your school has any policies against student cars.
4 min to read
What are the characteristics of great cars for college students?
The best cars for college students combine affordability, reliability, and safety. Consider these factors when choosing the right option for your college driving needs.
Finding the most affordable and safest cars for college students
Affordability

You can typically knock a few thousand dollars off your car price if you buy a used car in good condition instead of buying a new car. Consider if you'll be getting any financial help when making your purchase, and if you can get any student discounts.

Fuel economy

Gas costs can vary significantly over time, depending on oil prices and other economic factors. Selecting a car with good fuel efficiency and good gas mileage can help you keep the overall cost of owning a vehicle down.

Safety
College student commuting and parking
Parking at colleges can vary from ample on-campus options for all students to limited or no parking. Beyond figuring out where to park, think about if you need a car to get to and from an off-campus residence or a car that's good for road trips back home.
Parking

Will you be parking your car in a lot or garage, or on the street? If you go to school in an urban area where street parking is your only alternative, buying a truck or SUV may not be your best bet. You might consider buying a small SUV or sedan. Remember to find out how the permit process works at your college or university. Without one, you might not be able to park your car on campus.

Cargo space

If you live on campus, you need enough space to take your belongings back and forth between your home and dorm room or apartment a few times a year.
Pro tip:
Make sure your insurer knowns you're headed to college. As a college student, you may qualify for student car insurance discounts, like a good student discount or distant student discount.
Car considerations for post-college plans
If you don't want the added expense of buying another car when you graduate, it's worth thinking beyond college. When considering good cars for college students, think about the type of vehicle you might need once you leave campus permanently, and choose one that not only meets your needs now but will continue to meet them in the future.
Do college students get discounts on cars?
Yes, college students can get discounts on cars, depending on the car brand and dealer. Ask around while you're shopping for a car to find out what discounts might be available specifically for college students.
Your biggest car price factors will likely be the specific make and model you go with, and whether you buy a used vs. a new car. Make sure any discounts you're counting on will apply to the car you want, and check out our online car shopping services to compare prices from certified dealers.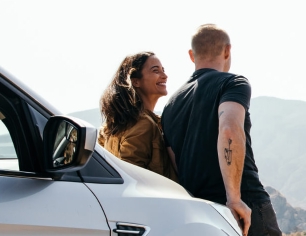 Quote car insurance online or give us a call