Boat insurance in Oregon
While Oregon doesn't require boat insurance, having a boat insurance policy is a great way to protect yourself and your vessel — whether it's a fishing boat, personal watercraft, or any other watercraft. Progressive offers boat insurance in the Beaver State with numerous discounts to help you save.
3 min to read
How does Oregon boat insurance work?
When it comes to boat insurance, Oregon has no mandatory requirements for any vessel. However, some marinas may require a policy before you're allowed to dock there. If you finance a boat through a lender, the lender may also require certain coverages until the loan is paid off.
Although the state doesn't require a policy, getting boat insurance in Oregon is still a good idea. Accidents involving other boaters, crashing into a buoy, fuel spills, or even something as simple as a guest falling off your boat can result in costly consequences. A boat insurance policy helps protect you against these events, as well as damage to your vessel.
Over 1.6 million watercraft nationwide are insured by Progressive — get a boat insurance quote online for affordable protection on and off the water.
What's included in a standard Progressive Oregon boat insurance policy?
Bodily injury liability coverage and property damage liability protect you against injuries and damages you cause to another person or their property. Bodily injury coverage can help cover medical expenses, while property damage liability can cover damage to other people's property, such as boats, docks, and buoys. If you need more than a $500,000 liability limit, an umbrella policy can offer extra protection, typically up to $5 million. Learn more about boat insurance and liability coverage.
Wreckage removal coverage is useful for recovering your boat from a body of water if it sinks and removal is legally required.
Fuel spill covers legally required cleanup costs that come with a fuel spill, regardless of how it happened.
Watersport coverage helps pay for medical costs surrounding accidents when jet-skiing, parasailing, and more.
Optional boat coverages
Comprehensive and collision: Comprehensive coverage can protect you from events outside of your control, such as fire, theft, and vandalism. This coverage helps pay your vessel's repair and replacement cost and is particularly useful to boat owners that store their watercraft for long periods. Collision coverage addresses damages caused by other boats, as well as obstacles like docks and buoys. If you're financing your boat, your lender will likely require both comprehensive and collision. Learn more about comprehensive and collision coverage for boats.
Sign & Glide®†: Sign & Glide® towing assistance will help if your boat is stuck on the water with on-water towing, jump starts, fuel delivery, and more.
Trailer trip interruption: If you break down at least 100 miles away from home, trailer trip interruption coverage will reimburse up to $500 for food and hotel expenses.
See all boat insurance coverages.
How much is boat insurance in Oregon?
Oregon is considered a mid-range state for boat insurance costs. Multiple factors play into the cost of boat insurance in Oregon, including:
Your age: Generally, the older you are, the more affordable your rate may be.
Make, model, and year of the boat: Insuring larger, older, or more expensive boats can lead to higher rates.
Boating experience: More experienced boaters may pay less for boat insurance than newer boaters.
Claims history: This may include both at-fault and not-at-fault accidents.
Pro tip:
If you carry comprehensive and collision with Progressive, you automatically receive Full Replacement Cost coverage, meaning we'll pay to make sure your boat or personal watercraft is returned to pre-accident condition without factoring in depreciation.
How can I lower my rate for boat insurance in Oregon?
Discounts vary by state, but in Oregon, you may be able to lower your insurance rate if:
Association membership: You're a member of the United States Coast Guard or the United States Power Squadron.
Advanced quote: You purchase your policy at least one day before it goes into effect. The further out you get your policy, the more this discount grows.
Original owner: You're the original owner of the boat; you may qualify for a discount.
Safety course: You completed an Oregon-approved water safety course.
See if you qualify for more boat insurance discounts.
How to get boat insurance in Oregon
Go online
Answer a few simple questions, then customize your coverages.
Get a boat insurance quote online
Call a rep
Speak with a licensed representative who can guide you through everything.
Call 1-866-749-7436
Ask an agent
Connect with a licensed, independent agent near you.
Find an agent in Oregon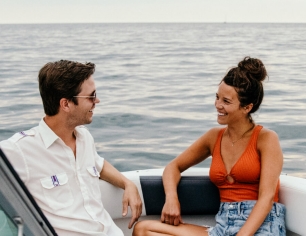 Enjoy life on the water with boat insurance from Progressive